Talking to students at the Gower College
11 March 2015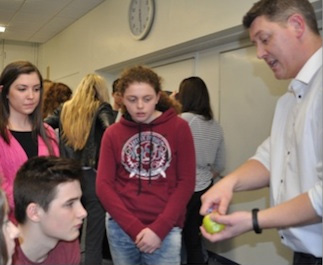 On the 10 March 2015, Professor James Birchall gave a talk and workshop on pharmaceutical science research to around 40 students at the Gower College, Swansea. The talk focused on microneedle delivery of drugs and vaccines.
He was invited by Dr Amy Herbert from the Gower College along with Dr Owen Guy, a collaborator from Swansea University who talked about microneedle fabrication and provided a workshop on MEMS (micro-electro-mechanical systems) processing.
Gower College is the largest centre in Wales teaching AS and A levels in the sciences.