STEM day activities
25 June 2015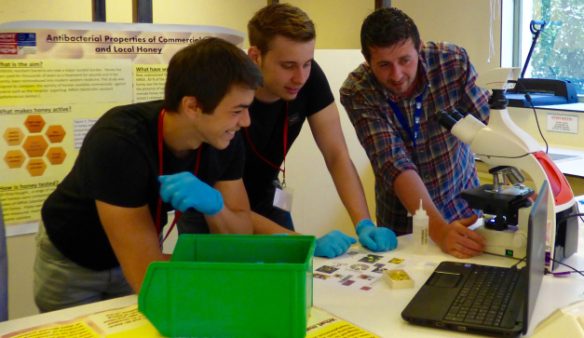 On 19th June the University hosted over 400 students from St David's Catholic Sixth Form College as part of our annual STEM (science, technology, engineering and maths) conference.
The engagement team in the School of Pharmacy supported the event by running a number of activities for the year 12 students at our interactive stand.
Professor Arwyn Jones also gave an introduction to the School and talked about phamacy and pharmaceutical sciences career options.
The team involved on the day included: Dr Julia Gee, Richard McClelland, Pauline Finlay, Sam Jones, James Blaxland, Dave Houston, Jen Wymant, Benjamin Ertefai and Dionysia Lymperatou.
Cancer skittle game: resistance is futile!
One of the games at our stand aimed to try and convey to the students the concept of antihormone resistance, a problem which can develop during breast cancer treatment with antihormone drugs such as tamoxifen.
Richard McClelland from the Breast Cancer Molecular Pharmacology group designed and built the Skittles Game, which represents breast cancer cells which can be successfully treated by being knocked down by the antihormone drug (the swinging medicine bottle).
However a few of the skittles were magnetised which made them less easy for the treatment to knock down. These represented the antihormone resistant cells, which can be more difficult to treat.
Displays on our stand then went on to describe how we are tackling this resistance problem in the laboratory through the development and study of novel breast cancer cell lines which reflect both the drug responsive and drug resistant tumour types.
These cell lines allow us to compare their gene expression and proteins produced and thus identify potential pathways and molecules involved in the resistance process. We can then study these candidate pathways within clinical breast cancer samples under the microscope.
Importantly, we can also develop new drugs to target these pathways that can delay or prevent the antihormone drug resistance from developing and control its aggressiveness in the laboratory.
Pink spanner
Another activity available we demonstrated at the conference was the pink spanner. This was created by one of our cancer research PhD students, Jen Wymant.
The activity is designed to explain how mutations in DNA lead to changes in protein shape and potentially lead to cancer and also covers several key concepts of biology and oncology:
that cancer is a disease of cells where the normal balance of cell growth and survival is disrupted due to mutations
that a gene is an instruction to make a particular protein and that proteins are like tools: their shape is important for their function
that there are different causes and types of DNA mutation
how DNA mutations are like spelling mistakes that can affect the shape and function of the protein produced
how DNA mutations can increase cancer risk.
Jen is currently working with Alexa Bishop, the Cancer Research UK Research Engagement Manager for Wales and South West to develop an activity pack for the pink spanner for use by other researchers across the UK at outreach and fundraising events. You can follow Jenny on twitter: @JennyWymant.