School and college visits
29 November 2013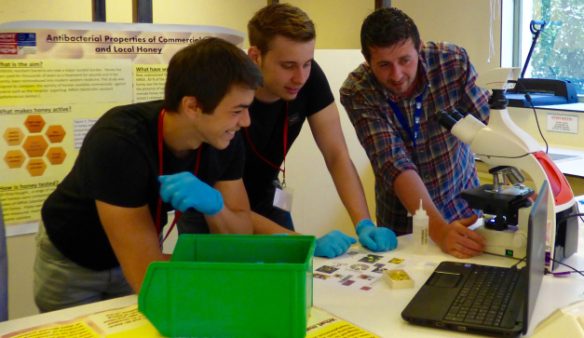 Staff and researchers from the School of Pharmacy and Pharmaceutical Sciences have visited a number of schools and colleges recently.
Whitchurch Primary School – October 2013
Dr Emma Kidd and Dr Rhian Thomas took part in two assemblies in Whitchurch Primary School as part of the Brain Games initiative. The people behind the Brain Games have committed to doing an assembly in all the 91 primary schools in Cardiff by the end of this academic year.
The children are given a book at the end so that they can find out more about their brain. The children learnt about some of the things their brains can do and they and their teachers took part in various interactive activities.
Cardiff Sixth Form College – November 2013
Dr Emma Lane gave the UAR talks at Cardiff Sixth form College.
Bassaleg School – October 2013
Professor Les Baillie gave a talk to Basseleg School on genetics and saving the world.
Radyr School – October 2013
Professor Les Baillie gave a talk to Radyr High School along with some students from Cantonian High on biodefense vaccine and antibodies and how Les cloned himself.
Cathedral School – February 2011 and March 2012
Dr Emma Lane gave careers talks at Cathedral School to year 11.
Severn Road Primary School – 2012
As part of the thematic series of activities centred around "Science of Medicines", Dr Arwyn Jones and Dr Mark Gumbleton visited Severn Road Primary, Cardiff. Through a series of hands-on experiments, young pupils were led through concepts such as forces, pH, solubility, and blood circulation, as they pertain to medicines.