Prospecting for bacteria in Antarctic penguin poo!
18 July 2017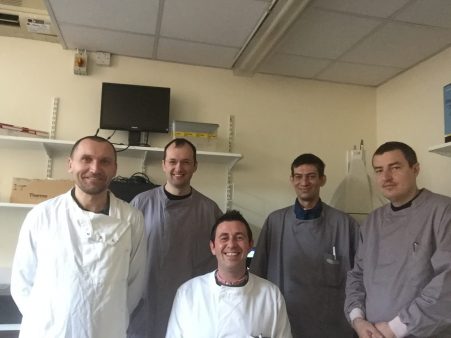 Professor Les Baillie and Dr. James Blaxland have recently been collaborating with researchers at the Ukraine Institute of Experimental and Clinical Veterinary Medicine (NSC 'IECVM'). Since its foundation in 1922, the Institute has investigated such problems as malleus, anthrax, brucellosis, plague, swine fever and foot-and-mouth disease.
Working with Prof. Baillie, the NSC 'IECVM' is participating in an AEDnet project (PIRSES-GA-2013-612309) and four scientists had a one month secondment at the School of Pharmacy and Pharmaceutical Sciences, Cardiff University under the supervision of Dr. Blaxland. During this visit they were familiarised with bacteriophage isolation and testing against strains of bacillus. In addition to the project work, they sequenced DNA samples from Nasseria sp. cultures that were obtained from penguin fecal samples. This material was collected near the Antarctic Academic Vernandskiy Research Base, known previously (until 1996) as the UK Faraday Station, as part of a project aiming to investigate the ecology of the Antarctic.
We hope that these samples will give valuable insight into the digestive bacteria and potential diseases found within Antarctic penguin populations.