Connecting the Dots to Create a Green and Pleasant Cardiff
4 October 2017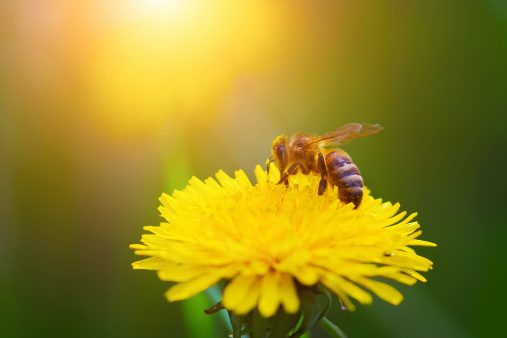 Pollinators contribute enormously to human life, from increasing the crop yields of our farmers to improving our everyday environments with aesthetically-pleasing flowers and plants. By doing so they provide us with a third of our food and create high quality, green spaces which are linked to higher levels of subjective well-being in people. Cardiff and the wider world benefit greatly from the hard work of bees, butterflies, beetles, moths and wasps to name only a few!
However, these industrious, green-thumbed fixtures of the natural world are declining in number due to multiple threats. The combination of disease, pests, habitat loss, pesticides and invasive species are contributing to a more hostile world for our pollinators. Thankfully there is a growing interest in the conservation of pollinators and creating environments which help them thrive. For example, at Cardiff University we are doing our part by engaging with local communities and businesses to generate gardens that provide not only plentiful sources of nectar and pollen, but green and pleasant spaces for people to gather, socialise and observe nature at work. The School of Pharmacy was also awarded a Guardian UK sustainability award for its 'Pharmabees' project, which began with siting beehives on the roof of the building and has now expanded its aim to create a bee-friendly university and raise awareness of the plight of pollinators.
On the 9th of October, Cardiff University is holding a conference at the Glamorgan building near Cathays park to bring together the people and researchers that share these common goals so that discussion and collaboration can continue to develop in this research area. Those in attendance will be encouraged to network with other attendees and to share their ideas and views in breakout sessions that focus on diverse area of pollinator research, from conservation and natural antimicrobials to green space and human well-being. Additionally, formal presentations will be given by speakers invited to discuss their contribution to pollinator research and the insights they have acquired during their work. The event is backed by Lesley Griffiths AM, Welsh Government Cabinet Secretary for Environment and Rural Affairs.
It is the aim of this conference to create and foster enduring collaborative efforts that will hopefully lead to positive outcomes for our indigenous pollinators and the people they benefit. By harnessing the power of the research 'hivemind', we can hopefully generate friendlier environments that provide solutions to some of the more pressing challenges facing our planet's vital pollinators.
If you are interested in learning more about the conference, future events regarding pollinators or our pollinator projects at the School of Pharmacy & Pharmaceutical Sciences, see more information at https://www.cardiff.ac.uk/pharmacy-pharmaceutical-sciences/about-us/engagement/pharmabees or follow us on twitter @pharmabees.