Cancer Research open day
20 September 2014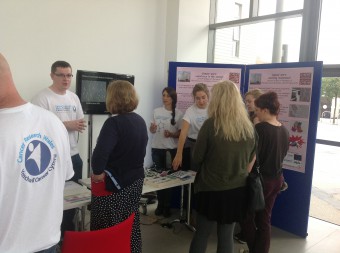 The Cancer Research open day was held on Saturday 20 September 2014. The event aimed to show the public how researchers are fighting cancer in Cardiff.
The free event was aimed at an audience of all ages.
Researchers from the School of Pharmacy and Pharmaceutical Sciences were enthusiastically involved, they hosted an interactive stand demonstrating how we are working together to discover cancer mechanisms pioneering development of new cancer drugs.
Professor Arwyn Jones and Dr Julia Gee organised the team which included:  Dr Iain Hutcheson, Hope Roberts Dalton, Dr Andrew Westwell, Richard McClelland, Sam Jones, Jessica Davis, Benyamin Ertefai and Dionysia Lymperatou.
Life Science Research Network
The event was also attended by the pan-Wales Life Science Research Network which brings researchers together from across Wales who are active in the area of drug development.
This network is part of the Welsh Government's £15M Ser Cymru initiative and has supported a number of projects aimed at developing the next generation of cancer drugs.