Bee friendly planting at Redwood
6 April 2016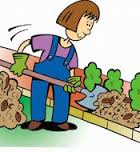 PHRMY has secured
some funding and the help of the Wildlife and Conservation Society to put some bee friendly plants around the Redwood Building both to support our pollinators and represent the science that is carried out in PHRMY.
We are scheduled to carry this out on the 21st April between 14.30 and 17.30.
If any members of staff would like to lend a hand and a shovel, or one of those tools for planting bulbs, please can you let me know in advance of the date.
Look forward to seeing you there.
Justine Jenkins