My time in Krakow by Katie Renker
2 October 2018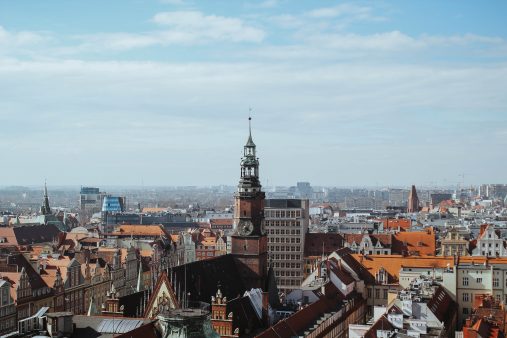 Katie Renker, spent a semester at Jagiellonian University, in Krakow to study music
"So when do you go back to Cardiff?"
"I don't"
"Sorry?"
"I've decided I'm moving to Poland"
"Exams go that badly?"
This is an entirely fictional conversation, but I feel like it accurately depicts many friends and family members reaction when I told them I was packing everything up to spend five months living in eastern (sorry, "central") Europe, studying at university whose name I could not pronounce.
I left burdened with only a camera… and a suitcase… and an oversize backpack…and a cello (much to the amusement of everyone I nearly staggered into as I battled my way through check in) as well as a much more portable, if equally weighty sense of excited trepidation for the unknown adventure I was about to embark on.
I returned… fine, yes I was still heavily burdened (think two legged, hairless pack mule), but in mind and spirit I was transformed? Okay, maybe that's stretching it. What I did come back with was a wonderful new supply of mishaps and encounters to add to my 'two truths and a lie' ready arsenal of anecdotes, a new insight into politics, society, culture and history of a beautiful and vibrant (if flawed) country, the lessons I learned from inspiring new professors, passionate classroom debates, and drunken 3am conversations and a network of truly international friends who kept my heart full, my days busy and my future travel plans extensive.
A second year BA Music student; I was the first from my academic school at Cardiff to take advantage of the incredible opportunity to spend a semester studying at the oldest university in Poland and in none other than the cultural capital, and 'City of Kings'- Krakow. In case that doesn't sound exciting enough on its own let me just say, Wales might have a lot of castles but do any of them have a dragon dungeon with a fire breathing malformed metal dragon outside? Or a giant 'dragon parade' with floating beasts battling out over in the river in a flurry of fireworks? Or a pair of totally, 100% bonafide dragon bones that definitely didn't come from a whale and a hippopotamus hanging outside the castle cathedral? No? I rest my case.
Dragons aside, I cannot recommend strongly enough, the Erasmus experience. I was one of only a handful of people from my department this year, to throw myself into the (albeit very well supported, organised, prepared for and Global Opportunities+university+Erasmus+Europe monitored) unknown and, all I can do is implore more people to jump on that boat, even if it takes you to a subpar city with not quite as many scaley, winged beasts.
Navigating a new country with a language that uses 7 cases and is therefore impossible (definitely a scientific fact and not just lazy-person excuses), finding yourself accommodation and working out the transport system in the midst of a Polish winter (or harder still, your host university's intranet, portal and general protocols) all pose challenges. Being responsible for making sure all your credits add up, you are learning what you should, and you don't die while going on ill-advised midnight adventures equally so. Sometimes you might just want nothing more than to go home for a hug; but then you think about the fact that your city has dragons and all of that melts away and you come home an enlightened, much more organised, independent traveller (cum dragon tamer) with a host of transferable skills.
Embrace the fear, embrace the bizarre, embrace your new friends, pick those new professors brains, explore every corner of your new home and beyond and inhale as much of that sweet European air as you can before Brexit and impending doom. You won't regret it.
*I realise the majority of this testimonial has somehow mostly become just about dragons for which I apologise, but equally…dragons.
Read more about Katie's adventures on her blog.