Meet Dr Peter Leech, our new Chamber Choir conductor
28 July 2016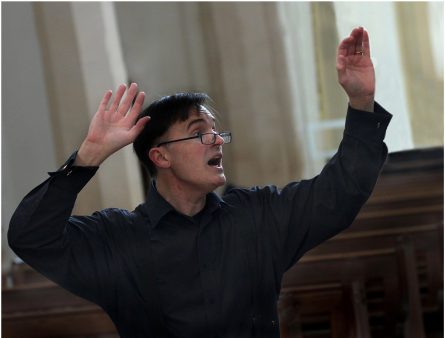 "With the new academic year approaching I just thought I'd take the opportunity to introduce myself to everyone.
Many of you will know me from my teaching in the School of Music last year, but many others will have only experienced my work through the brief contact we had on the conductor audition day.
On that occasion I was hugely impressed by the way everyone took to the Palestrina motet in a different way, firstly by singing in-the-round, and secondly by dividing into SATB quartets. It has always been one of my key principals, particularly with early repertoire, to break free, where possible, from the formal conductor-vs-rows-of-singers idea, especially when harmonies are often best experienced when you're 'in the thick of it'. It's also a chance to use our ears in a variety of challenging ways, by not just hearing the music from the same vantage point all the time. That being said, we'll obviously need to adhere to the formal set-up in concerts more often that not!
Yes its true I'm an 'early music specialist', but, as some of you know, I have also been performing, recording and broadcasting everything from medieval to modern for quite a few years with both professional and high-quality amateur groups outside the University.
So I'm really looking forward to bringing all of these experiences to the Cardiff University Chamber Choir and building on the strong reputation established by my predecessor.
Above all, diversity of repertoire and the highest standards of performance are two main priorities for me, as I know they are for many of you. Don't be surprised if we one day end up rehearsing a Monteverdi motet alongside a Mantovani arrangement!
One key aim is to make sure that we continue to be musical ambassadors for the University, not only for choral music itself, but also for choral aspects of research undertaken by some of the leading international scholars in our music department. You'll find some of our programmes in the years ahead will reflect this, when and where possible.
I'm looking forward so much to working with everyone this year!"
---
Comments