Hong Kong internship
25 January 2016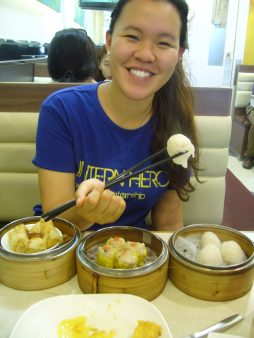 BA Music student Jackie Yip completed an internship in Hong Kong last summer organised through the University's Global Opportunity Centre. She tells us about her experiences…
Hong Kong is the birthplace of my parents and our infrequent holidays there were always short but bittersweet. I remember thinking how unlikely it would be for me to be selected to intern there but ever since I applied, I have never looked back. People underestimate the alienation you feel being born to parents of a different culture. The difficulty is never trying to adapt, but to embrace both halves of your being. I think my experience of Hong Kong did just that.
Waking up every morning was just like the first day of a holiday, full of anticipation and energy. I was surrounded by new friends not just from Cardiff, but all over the world and I never felt so blessed.
I felt so at ease riding the train to work with all the people that make the city tick. I had been embraced into the city with two arms and I could not help but feel a sense of pride for my heritage and my family.
I spent one month working with a company called Backroom, an elite fashion house dealing with some amazing new designers. One day I could be working 34 floors up, looking at the very heart of central Hong Kong whilst blogging about the latest playlist a designer had just uploaded or I could be at Victoria harbour, assisting the photographer whilst we shot amongst the traditional fishing boats that still glide the waters.
It speaks wonders about a city that still stays so rooted in tradition despite an ever changing society. Walking up streets that are literally weighed down by time, surrounded by market stalls selling cheap food and wares, are juxtaposed when I round the corner to see skyscrapers and bright lights.
Hong Kong is a beautiful contradiction, I have never been so far away yet felt so at home.
I always think that when travellers talk about 'finding themselves' whilst abroad, it's always such a cliché. Who really 'finds' themselves? However, I can definitely say something has changed in me since coming back, there are bigger and more exciting things out there, and more than you can possibly comprehend.
I am not afraid of challenging myself now and I know that no matter where life will take me, I can handle it.
The Global Opportunity Centre provides a dedicated resource and source of expertise for all of the opportunities available at Cardiff University for students to gain an international experience.