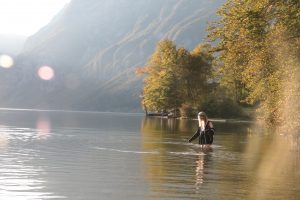 Erasmus in Ljubljana by Holly Edgoose
I'm a third year BMus student currently on a year abroad at Ljubljana University, Slovenia. These are some of my experiences from the first semester.
Semester 1
Dober dan! I arrived in Ljubljana on the 2nd of September and since then, I have loved every moment. For the first 3 weeks of my Erasmus, I took an intensive Slovene language course. The course was useful, lots of fun, and I made friends from all over Europe.
My Slovene Group
Ljubljana University Main Building
Student life in Ljubljana
I live in student dormitories, sharing a small flat between four people and a shared bedroom. I would recommend staying in dormitories if you're thinking of coming to study in Ljubljana. It is cheap and you're surrounded by students, so you make many friends. Also, my dorm is next to the gym where you can sign up to sports classes for free!
My half of the shared room
The church in Prešeren Square in Ljubljana
Students get meal coupons which you can use in most restaurants. With these coupons you get soup, salad, a main dish, and then fruit or desert for between €2-4 – at some places you even get free food! This coupon system can be used across all of Slovenia and the food is great – especially the ice cream!
Ljubljana is beautiful and an amazing student city – there is so much going on. I started swing dance classes, and I've been going to dance parties with locals and other Erasmus students.
Bled cream take – a traditional (delicious) cake in Slovenia
Ljubljana Castle
In my class we recently listened to a Slovenian harmonica group, Sorarmonica. I've been to lots of concerts in Ljubljana, including a sitar, bansuri and tabla concert; a jazz club in the castle where I saw a Slovene blues group; Carmina Burana in the opera house and open mic nights. There are a few alternative places, such as Metelkova, a social centre based at the site of an old army barracks, which has events and concerts. The city is small but there is so much going on and something for everyone.
Ljubljana
Metelkova
The weather is very unpredictable – in September it was warm with blue skies some days and then lots of rain on other days. But from November to February we have had cold weather, sunny weather and snow! I'm writing this on a cold afternoon in February and it has been snowing for 2 days.  Around Christmas, the lights were incredible, and we drank lots of mulled wine.
But now I am looking forward to the next semester and seeing what Slovenia is like in spring and summer.
Ljubljana Christmas lights
Tivoli Park – the main park in Ljubljana in the snow
Studies
Overall, everything is much more relaxed here. I study primarily at the Faculty of Arts in the Musicology department and I have instrumental lessons at the Academy of Music. The courses I took this semester are 'Musics of the World' and 'Slovene Traditional and Popular Music' which are taught by Professor Pettan. I've really enjoyed his classes and I learnt so many new things. I have had the opportunity to try traditional Slovenian flutes and other instruments, as well as watching a folk revival concert.
Ljubljana Opera House
Field trip
Traditional Slovenian folk instruments
I've also been playing in an ethno music group, singing in the faculty choir, and learning Slovenian. Recently we went on a field trip to listen to Slovenian bell chiming. This is a musical tradition passed on from generation to generation. There was also an amazing exhibition in the National Museum which had various old instruments and it was very fascinating.
Faculty of arts choir
Traditional bell chiming
Exchange students with Professor Pettan
Travelling
Lake Bohinj
At Lake Bled
Slovenia is a very small, yet beautiful country. There are mountains, lakes, coast and caves. It is surrounded by many countries so it is a great starting point for travelling.
I have been canyoning in Bovec, visited Cerknica (an intermittent lake), and Postojna caves. My faculty also organised a free trip for Erasmus students to Predjama castle, a castle inside a cave.
In October we took a weekend trip to Croatia where we stayed on the Island Krk. We went swimming and walked down the narrowest street in the world! From there we went to Plitvice National Park and watched cascading waterfalls and saw stunning lakes.
Lake Cerknica
Predjama Castle
Postojna Caves
The next trip was to Budapest and Vienna, both very interesting cities. A man who sold us concert tickets told us the two most important things to do in Vienna are: 1. Try the chocolate cake (Sacher torte) and 2. See a concert. I love music and chocolate, so that was perfect for me!
In Budapest
Sunsets in Croatia
Plitvice Lakes
In December, I went to Zagreb in Croatia and visited the Christmas markets there. The city at Christmas time was really magical and decorated so beautifully.
Zagreb
I made some incredible friends this semester
Overall, my first semester in Ljubljana has been incredible and I'm excited to see what the next semester will bring.