Object #9. Brassed Off: Gender Stereotypes and the Sexualisation of Instruments, on- and off-screen
3 August 2017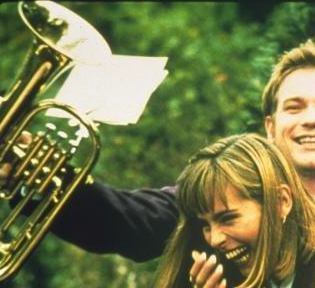 By Harriett Blakeman, MA (Performance)
Directed by Mark Herman, Brassed Off (1996) confronts social and political tensions prevalent in late twentieth-century Britain. Herman portrays a colliery brass band threatened by pit closures and under investigation from the British Coal Board. For the band members, the ensemble is one of the many areas of their lives endangered by possible redundancy. The stereotypes of brass band culture are typified by the presence of a woman who earns a place in the band and is investigating the profitability of the pit. For my undergraduate dissertation, I researched the sexualisation of instruments and the limited presence of female musicians in jazz. As I watched Brassed Off, it became apparent that Herman had exposed these topics as prevailing themes within brass band culture.
The iconic 'Concierto de Aranjuez' scene alludes to the typical gendering of instruments within the brass band movement.
In this scene, Gloria Mullins, interpreted by Tara Fitzgerald, plays a flugel horn solo as an audition for her place in the band. She chooses to perform the 'Concierto de Aranjuez' by Joaquin Rodrigo and her level of skill seems to shock the band members. When Gloria enters the rehearsal, she attracts attention as an attractive young woman, but when she begins to play, the focus is transferred to her musical expertise. The way the scene is shot and edited raises numerous questions about gender stereotypes in music. Firstly, the cinematography emphasises humorous reactions from other musicians, thus accentuating how uncommon it was to have women present in the band room, let alone a talented player. Secondly, Herman appears to have emphasised the performer's femininity in order to typify the separation between the masculine culture of working-class labourers and her alien presence. Camera angles focus on Gloria's carefully manicured hands and how she positions her hair in-between playing. A third, important point, is that the accompanying music was recorded by Grimethorpe Colliery Band, meaning that a male flugel horn player actually performed the solo that Tara Fitzgerald excellently mimics.
All of these aspects contribute to a complex commentary on the limited presence of women within brass band culture. I found this scene particularly thought provoking because it led me to consider how certain given instruments are culturally constructed as 'feminine'. Within the context of the modern brass band, flugel horn and cornet are commonly played by women, whereas tubas and trombones are predominantly played by males. Brassed Off demonstrates that there is a great deal of scope in exploring the factors that lead to the gendering of instruments and the increasing presence of female brass musicians. More intriguing still, is the question of whether Brassed Off had an impact on the accessibility of brass band culture to women.
---
Comments