Object #4. Spyro 2: Gateway to a Reconceptualisation of Digital Sampling
24 April 2017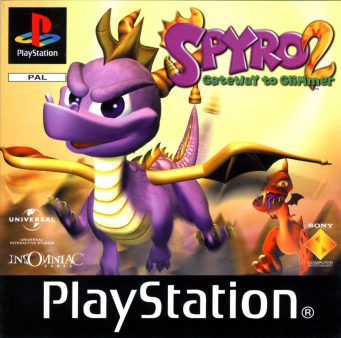 By Justin Turnbull, MA (Music Studies).
I find that listening to music in the background whilst undertaking another task can either focus my mind on the task or distract me from it. When writing an essay last semester I chose to listen to music strongly associated with my childhood, which had the effect of keeping me calm, grounded and focused on the task at hand. I had chosen to listen to the music composed by Stewart Copeland (most famously known from his role as drummer in The Police) for the video game for PlayStation, Spyro 2: Gateway to Glimmer (1999) (the North American version of the game was called Spyro 2: Ripto's Rage!). Once I had submitted the essay, I decided to look up interviews with the composer to see what he had said about the music he had written for the first three Spyro the Dragon games.
I was mildly surprised to see that Copeland was more than happy to discuss his work on the video game series with interviewers. With further searching, I found a 'subreddit' dedicated to all things 'Spyro' on the popular forum website Reddit. From there, I came upon a thread discussing the music Copeland had written for the series.
The user who created the thread had shared a YouTube link, containing five minutes of material from Spectrasonics' Distorted Reality 2 sample library, a series which the company's website states is 'widely regarded as the most popular sample library of all time'.
Anyone who is familiar with Copeland's music will immediately recognize that Distorted Reality 2 was the sample library most heavily used by Copeland. From individual sounds and fragmented beats to the wholesale use of extended atmospheric samples, the samples can be very easily recognised. For example, compare 0:49 from the Distorted Reality 2 library (YouTube link above) to the opening of Copeland's music for the level 'Zephyr':
The use of the synthesised 'miaow' sound is plain and obvious. Similarly, compare 'Luminize' from Distorted Reality 2 (2:39–2:55) to Copeland's 'Winter Tundra':
This comparison was an important moment of realisation for me. I had never considered that video game music would draw from different sources like this. I had assumed that everything I heard was wholly original material composed by Stewart Copeland. In fact, I had never properly considered video game music as 'art'. It was something that was just there. On reflection, this teaches me about myself. In my education, 'Western art music' had an assumed superiority. It was 'worthy' of study in the way that popular music, film music, or video game music was not. This was never stated, but the study of music for these purposes was always done through an analytical and critical paradigm primarily associated with the study of art music. For this very reason, I had never considered the music from video games to be 'worthy' of study. This ideology of what is 'high' and what is 'low' art has come under much deserved criticism within the discipline of musicology, largely prompted by an article penned by Joseph Kerman in 1980, 'How We Got Into Analysis, and How to Get Out' (Critical Inquiry, 7/2 (1980), 311–331). Another article, authored by Janet M. Levy, criticised the value judgments inherent in a lot of musicological writing ('Covert and Casual Writings in Recent Writings about Music', The Journal of Musicology, 5/1 (1987), 3–27). Three decades on, the musicological discipline is much more open-minded, with many writers embracing an interdisciplinary approach. It seems that universities have moved enthusiastically with this change, but foundational education at primary and secondary schools and colleges seems to remain more or less the same, ascribing higher value to art music by the elimination or subordination of the more popular forms of music. In academia, film music scholars and popular music scholars are now in abundance. It is only in the past decade, however, that writings have surfaced that take video game music as their object of study. Guillaume Laroche has been credited with naming the sub-discipline by coining the term 'ludomusicology'.
Inspired by my paradigm shift, I asked my parents to buy me an introductory volume to the sub-discipline for Christmas, namely Ludomusicology: Approaches to Video Game Music, ed. by Michiel Kamp, Tim Summers and Mark Sweeney (Sheffield: Equinox, 2016). It is worth briefly considering two chapters in order to indicate that my own interest seems to be of secondary importance to ludomusicologists. Tim Summers' chapter, 'Analysing Video Game Music', offers a series of in-game sources and satellite sources that can be used in analysis. It is implied that the order of sources he offers in the text are the order in which they should be considered by the analyst. To begin, an analyst must select one version of the game, as the audio experience differs for the player from console to console. Secondly, the analyst must engage in analytical play, observing the music and the method of its function critically as subordinate to and fluid with the gameplay experience. Observations garnered from analytical play can then be tested by an investigation of the game engine and music code. In Summers' view, all this must be undertaken before analysing the musical material itself. Satellite sources follow, including interviews, presentations, recordings, liner notes, scores, and reviews. Analysing music for Halo: Combat Evolved (2001), Summers does not pay due attention to the fundamental source of the musical sounds employed. Whilst acknowledging that Martin O'Donnell and Michael Salvatori composed the game's score, their use of Virtual Studio Technologies (VSTs) goes unmentioned. It is important to state that I have not undertaken my own research on this, but it is clear from listening to the soundtrack that it is not the performance of a live orchestra but a MIDI instrumental library. The implications of this extensive plurality of sound sources seem to go unrecognised in this chapter. Minimal attention is given to the mind-bogglingly vast intertextual web that the use of VSTs and sampling generates for the study of music that does not rely on a single source in time for its performance. In addition to video game music, this applies for much film and television music. Even where a live orchestral performance and recording has been acquired, it is rare that it constitutes the whole body of music or for it to go unchanged in the editing process or the addition of extramusical sounds.
In 'Analysing Game Musical Immersion', Isabella van Elferen proposes the ALI Model, referring to musical affect, musical literacy and musical interaction in video game music. In her discussion, musical literacy is particularly necessary in order for immersion in the game to take effect: 'it is because gamers recognize certain composing styles that they are able to interpret gaming events and feel involved in gameplay, game worlds and game plots' (van Elferen, Ludomusicology, 32–52 (p. 36)). This literacy is attributed to familiarity of video game music with audio-visual clichés in film music. Whilst she does not engage with the most significant intertextual implications, van Elferen acknowledges this adherence to cliché as an important characteristic of successful video game music. It can therefore be suggested that the marketing of VSTs takes advantage of this literacy for commercial gain, further encouraging and reifying it through the development of competing products that are tailored to this most popular form of music. That is not to say in any way that VSTs can only be used for clichéd music, but merely that they are often marketed for it. For just one example, see the advertising of Native Instruments' 'Action Strings'.
My core interest can be neatly summarised in a brief return to a consideration of Stewart Copeland's music for Spyro 2: Gateway to Glimmer. To reiterate, before hearing the samples by Spectrasonics in isolation, I had never considered that the sounds Copeland used were anything other than his own creations. An artist does not have to credit Spectrasonics or any other VST producer for the use of their product. They are designed for anonymous and uncredited use, free to be deployed in edited or unedited fashion in mostly any form of media. As a result, much of the sound and music we hear has become anonymous, with no owner or the fundamental identity of an original. David Metzer summarises it well: 'Quotation is no longer a specific gesture performed by one musician to the work of another but rather it is the ubiquitous act enacted between an unending web of works' (Metzer, Quotation and Cultural Meaning in Twentieth-Century Music (Cambridge: Cambridge University Press, 2003), 165). Ultimately, my interest lies in hypothesesing how music that participates in this vast web of anonymity and intertextuality can be adequately considered and analysed. Conceptualising the vastness of the intertextual web is a daunting project; to bring it home, listen to 3:29–c.3:50 of 'Boring Angel' by the electronic artist Oneohtrix Point Never. Bearing no relation artistically to Stewart Copeland or to his aims, one can unmistakably hear 'Luminize' from Distorted Reality 2, the same sample Copeland used for 'Winter Tundra'. The possibilities for its use are simply infinite. By implication, any sample is infinite.