Object #17. The Joly Braga Santos Piano Concerto: from Nearly-Forgotten to Object of Research
4 October 2018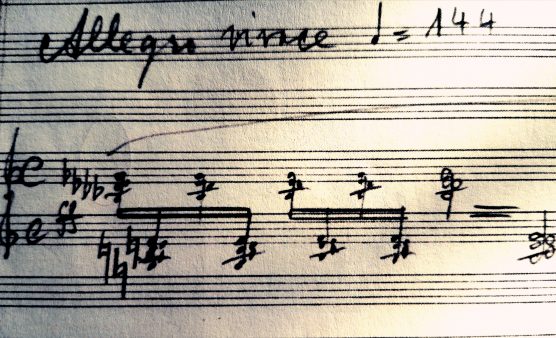 By Ana Beatriz Ferreira (PhD in Performance)
Ever since organising and performing at the UK premiere of Joly Braga Santos's Piano Concerto, in London in 2015, I have developed a profound interest in this work, not only as a performer but also as a researcher.
The manuscript, completed in 1973, had been hidden away for more than twenty years in the archives of the Portuguese National Library when I heard of its existence by chance. I found it embedded with boldness, lyricism and virtuosity, typical of this Portuguese composer, and my attention was immediately caught.
Joly, however, unlike Chopin, Rachmaninov or, to mention a fellow compatriot, Vianna da Motta, was not instinctively drawn to composing for the piano. His body of work does not include piano sonatas or other long duration works.
In Joly's greatly prolific compositional life, the relationship with the piano was rather forged through chamber music, in two trios, two quartets and several other works. The magnum opus for this instrument, however, was undoubtedly the Piano Concerto, dedicated to Portuguese virtuoso Sérgio Varella-Cid.
I have recently concluded the first year of my PhD at Cardiff University School of Music studying this precise topic: Joly's pianism and musical language in this concerto. So far, some very interesting questions have arisen, namely in his treatment of materials, piano techniques used and musical influences.
Furthermore, in this mostly atonal and seemingly far from traditional piece, could there be hidden a more profound, innovative and thought-provoking way of honouring the past?
Through practice, performance and analytical study of the score, combined with archival research, some light will be shed upon these and many other questions, in an effort to expand our knowledge of this composer, further exploring his thought processes, and making this work as widely known as possible, so it will never become 'nearly-forgotten' again.
For more information on the 2015 performance and discovery of the manuscript, watch: