Object #16. Ralph: Life and Adventures of an Enemy Alien. An interdisciplinary workshop extravaganza!
11 May 2018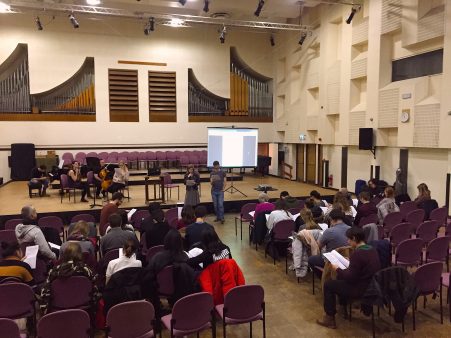 By Ben Davis (PhD in Music)
The object for this blog entry is the extract of a scene from a newly written play by Sophie Rashbrook about the life of designer Ralph Koltai. The excerpt features imagined and verbatim text in English and French, passages from Shakespeare's As You Like It and a song in German by Kurt Weil, Es Regnet. The scene became the focus of an event scheduled for one of our PG Forum slots within the School of Music and extended into a practical workshop session after lunch. Sophie, the playwright, had garnered interest from a number of organisers who saw an opportunity to engage with the material across collaborating disciplines within the university. We gathered in the concert hall, where there was space for all of us.
For my own part, I was an ex-colleague of Sophie's (working as a stage director at Welsh National Opera) and a Postgraduate Research student with an interest in how stories are told with music. I acted as facilitator in the morning session's Forum discussion, which included members of faculty and students from the Schools of Music and Modern Languages (MLANG) at both undergraduate and postgraduate level. This involved a short introduction to Sophie, her play, its form and themes by way of a few questions from me, which then opened out to questions and a discussion between everyone at the Forum. Some of the discussion addressed why this play and extract, why now, why use music, and why this specific music. As a group, we read out the scene extract from the play that culminated in hearing the Kurt Weill music, sung and accompanied by some of our Music MA students (Lily Taylor, Nia-Bethan Squirrell, Thomas Haslehurst, and Matt Lush). Our discussion then continued to identify some of the challenges in how to go about staging it, how to translate it, and how it might be performed.
After a pizza lunch, generously provided by MLANG, we organised ourselves according to those with an interest in 'workshopping' approaches to performing the scene and formed groups focussing on the role and involvement of music and the possibilities for translation and staging. Each group was moderated by one of the organisers. There was necessarily some overlap and the afternoon culminated in running the scene as a work in progress, exploring performance possibilities.
The general feeling and feedback was that this had been a very enjoyable and stimulating event; it provided a discursive and participatory environment for everyone who attended to practically explore the material for performance. The mix of people and disciplines contributed to a thought-provoking exchange of ideas and approaches and this was particularly welcomed by Sophie, the writer, who subsequently decided to incorporate some of the translations and ideas generated in the workshop into her script. One significant discovery, to my mind, was how central the roles of design and music would be in considering a performance of the scene and, by extension, the whole play. The exploration of sound and an instrumental musical language emerging from and between texts, both sung and spoken, felt appropriate to the textual collage and cabaret setting. The event itself, and hopefully future ones like it, now feels like a potential object of reference for focus on further inter- and trans-disciplinary collaborations between University Schools and practitioners within and beyond their boundaries. Therefore, included is a record of the event:
DISCUSSION AND MUSIC/TRANSLATION WORKSHOPS on RALPH: THE LIFE AND ADVENTURES OF AN ENEMY ALIEN with Sophie Rashbrook (playwright, dramaturg and translator)
School of Music, Concert Hall (Corbett Road)
20 March 2018, 11:00-14:00
A Collaboration of
the School of Music's Postgraduate Forum,
the School of Modern Language's "Translation, Adaptation and Performance" Research Cluster
and Cardiff University's Centre for Interdisciplinary Research in Opera and Drama (CIRO).
Organised by Dr Carlo Cenciarelli (Music), Benjamin Davis (Music/WNO), Dr Monika Hennemann (MLANG), Dr Cristina Marinetti (MLANG) and Prof Loredana Polezzi (MLANG)
 11:00-12:00:   Discussion and Workshop Part I: The Role of Music in Sophie
                        Rashbrook's Play Enemy Alien
12:00-12:30    Pizza lunch
12:30-13:30:   Workshop Part II: Practical Aspects of Translating Dramatic
Texts for Performance

13:30-14:00:   Workshop Performance of "Es regnet"/Final remarks