Object #14. Poulenc's Organ Concerto: Allusions and Receptions
9 February 2018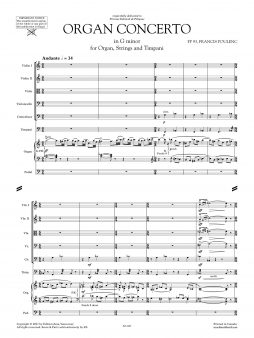 By Thomas Pitt (MA in Music Studies)
Francis Poulenc (1899-1963) was never shy of borrowing (or, more accurately, stealing) materials from other composers' works, whether by direct quotation or by stylistic evocation. Often, he does this in order to create what Daniel Albright (in Untwisting the Serpent, 2000) calls an 'acoustic collage', cutting and pasting bits of music alongside each other; a technique that could be described as 'surrealist'.
A good example of this is his Concerto for Organ, Strings and Timpani in G minor (1938). In the opening section of the piece, Poulenc alludes to Bach's Fantasia in G minor (BWV 542) in the organ part while simultaneously making reference to the minor third ostinato from the opening and concluding sections of Stravinsky's Oedipus Rex (1927) in the timpani. In fact, Poulenc made good use of the latter, which appears at significant moments in a large number of his post-1927 orchestral works.
However, in both cases Poulenc's modelling of these composers in the Organ Concerto distorts the original. The striking dissonances of the organ chords which punctuate the opening of the Fantasia are exaggerated to an almost ludicrous degree by Poulenc. Likewise, the Oedipus motif is rhythmically offset, giving it a feel of syncopation. But it remains unclear whether the unusual mixture of Bach and Stravinsky, and the alteration of these models, is intended to be humorous or disconcerting; in many ways it would appear to be both simultaneously, blurring semantic distinctions. In this respect, this opening passage can be seen as a microcosm of the work as a whole and, indeed, of large parts of Poulenc's output.
Poulenc also creates an interesting case study in terms of reception. He has long-since been a popular composer with audiences and concert programmers alike, but has sometimes struggled to gain academic recognition. This might be because he is often perceived to write, in the words of his biographer Benjamin Ivry, in a 'tonal, accessible idiom', a quality that could explain his enduring popularity with concert-goers, but that is unlikely to enhance his status within the academy. But can music which relies so heavily on such a wide range of esoteric intertextual references really be considered 'accessible'?
This question might highlight a certain disconnect between the concepts of canon and repertory. Poulenc's most frequently performed pieces include his later religious choral works, the Stabat Mater and Gloria, and the opera Dialogues des Carmélites, all of which are less dependent on the sort of intertextuality and semantic dislocation found in the Organ Concerto and other similar pieces.
However, these pieces are often shunned by academics, who might be more likely to prefer surrealist works such as Les Mamelles de Tirésias or Sécheresses. In fact, scholars who have lauded the more 'popular' parts of Poulenc's output have sometimes been frowned upon; consider, for example, Wilfrid Mellers' appraisal of Carmélites (Francis Poulenc, 1993) on which Robin Holloway (On Music, 2003) remarked, 'It is piquant to find Wilfrid Mellers, who once used many years ago to write so severely for Leavis's Scrutiny, falling right over the top for this flagrant praline!' The Organ Concerto, incidentally, is a rare example which combines a plethora of intertextual allusions with having a place in the repertory, suggesting the possibility of interpretation on multiple levels.
It is possible then that Poulenc's academic reputation, which has started to pick up only relatively recently, has suffered partly because of, rather than in spite of, his wider popularity. Poulenc is thus a composer of many paradoxes: his originality derives from an apparent lack of originality at a surface level, and the same qualities which endear him to one audience have caused him to be looked down upon by another. In many ways, Poulenc continues to prove himself to be a significantly more complex figure than he might, at first glance, appear.