Musical creativity and communication in the age of social media
21 September 2015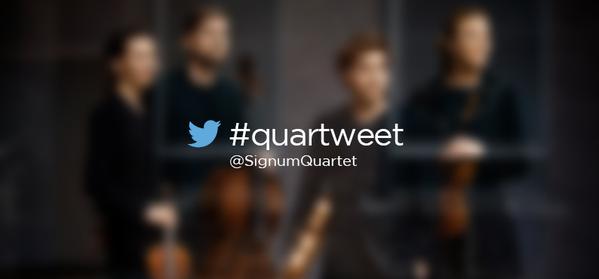 Dr Robert Fokkens writes about our involvement with the Signum Quartet's exciting #qwartweet project…
Over the next 18 months, Cardiff University composers will be partnering an exceptional German chamber ensemble – the Signum Quartet (previously BBC New Generation Artists) – in an innovative project based around the Twitter social media platform. Devised by the Signum Quartet, the #quartweet project invites any composer with access to social media to write the quartet a piece which is only 140 notes long – in response, of course, to the 140-character word limit of the tweet. The piece is then tweeted to the quartet: they have committed to playing through every piece they receive, and where possible they will programme these pieces in their concerts, as well as making workshop recordings to be disseminated through channels such as Youtube.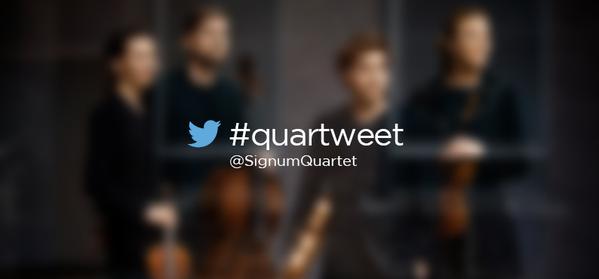 Xandi van Dijk, an old friend and collaborator of mine, is the violist in the quartet and the mastermind behind this project. He says of the #quartweet concept: "Social media is at the centre of a change in how we communicate with each other, and we wanted to extend this experiment in communication to the realm of music and to compositions for quartet in particular."
I was fortunate to be one of his sounding-boards as he developed the project, and was very pleased to be able to invite the quartet to visit the School of Music in 2016 for a residency based around it. The project launched in June on Twitter, and will be developed further later this month when the quartet has a residency with the Princeton Symphony Orchestra in the USA.
What fascinates me about the #quartweet idea is the way it touches on so many aspects of how we use and are being shaped by social media – for example, the imposition of brevity and focus in our communication; the apparent intimacy and directness of communication; the democratisation and globalisation of communication; the performativity of social media; the relationship between electronic and 'live' media and many more. The project also has exciting potential as an educational tool for budding composers – the Signum Quartet will be exploring this during their Princeton residency with primary school students, alongside workshops with more experienced young composers.
When the quartet visits Cardiff next year, I hope to explore these ideas in more detail with the quartet, our students and fellow academics – teasing out the implications of a project like this for musical creativity, but also enjoying the challenge of extreme compositional focus and concision. Until then, the project is open to all – composers should follow @SignumQuartet on Twitter, and look at their website for more information on the project:  http://signumquartet.com/en/quartweet/#description
Dr Robert Fokkens
---
Comments