Celebrating the choral music of Morfydd Owen in her anniversary year
12 December 2018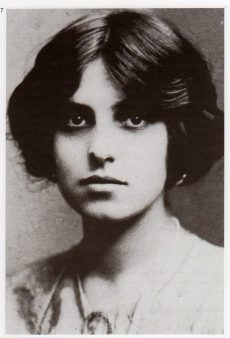 On Friday 14 December at Eglwys Dewi Sant, Cardiff University Chamber Choir, under the direction of Peter Leech, will present rarely heard choral works by Welsh composer Morfydd Owen, marking the 100th anniversary of her death in 1918.
2018 has been a year of significant anniversaries, not the least of which was the 11 November Armistice Day marking exactly 100 years since the end of the Great War. It is impossible for us to fully imagine today how the sudden silencing of the guns and termination of four years of gruesome and indescribably horrific conflict must have affected not only the soldiers who survived, but also their families and friends at home whose lives had changed irrevocably.
The last year of the war brought unexpected political and social developments across the globe. Russia had withdrawn from the conflict, and there were genuine fears that the massive German spring offensive on the Western Front would break through and defeat the allies before the Americans could fully mobilize. Embroiled in civil war, Russia saw many of her prominent musicians flee the country. Those who remained led precarious lives, often fearing imprisonment or, in the case of Tsar and his family, death at the hands of the Bolshevik regime.
In Britain, significant events were taking place in 1918, especially those affecting women. The fight for women's suffrage, having gained increased momentum in the previous four years, culminated in an Act of 6 February which granted the vote to some 8.5 million women over the age of 30. Towards the end of the year further legislation, passed on 21 November, gave women over the age of 21 the right to stand for election as Members of Parliament.
Against this backdrop can be viewed important developments in the artistic world. On 15 March the French composer and pianist Lili Boulanger, first female winner of the Prix de Rome, died from bronchial pneumonia at the age of 24. Her death was followed 10 days later by that of Claude Debussy. Both would not live to see the end of a war which had claimed the lives of many of their friends.
Likewise, in England, Charles Parry (whose Songs of Farewell illustrated much of his personal grief at the loss of friends killed in action) would not live to see the war's end, dying just a month before the armistice. Just under a month before Parry's death, on 7 September 1918, at Oystermouth, near Swansea, one of the brightest stars in Welsh and British music, Morfydd Owen, died tragically at the age of 26.
A child prodigy and composition student at University College, Cardiff, Owen graduated in 1912, having already established a formidable reputation as a composer, pianist and singer. Her first published work appeared in 1909 and in September 1912 she began studies in composition at the Royal Academy of Music. In London Owen moved in fashionable and influential social circles, one of which was focussed around the Hampstead flat she shared with her friend Elizabeth Lloyd. This circle included D.H.Lawrence, Ezra Pound and Russian émigrés such as Prince Felix Yusupov (plotter in the violent murder of Rasputin) and Alexis Chodak, the latter having (unsuccessfully) proposed marriage.
In 1915 Owen planned to study in Russia, but war made this impossible. Had her Russian tour taken place, it can only be imagined as to the possible influences which Russian music and its leading exponents (such as Rachmaninov and Prokofiev) may have had upon her. In January 1917 Owen made her professional singing debut in London, and in July of that year one of her song settings was performed at the Henry Wood Proms. In 1918 she became a sub-professor at the RAM and by the late summer of 1918 her career trajectory seemed to be unstoppable.
Rightly, 2018 has been a year of numerous performances of Owen's music, most notably her orchestral works and songs, repertoire which has become increasingly popular with audiences. Much less well known, however, are the small number of choral works, some of which were left unfinished at hear death.
During the summer of 2018, under the auspices of a CUROP Research project initiated by Dr Peter Leech, Cardiff University Music Student Megan Auld transcribed choral works by Owen from her original manuscripts, for a unique performance by the Cardiff University Chamber Choir.
The programme will include the world première performance of two vibrant Owen settings; Fierce raged the tempest (1911) and a Jubilate Deo (1913). Three more, Sweet & low (1911) and The Refugee (c.1911) and My luve is like a red, red rose (1912) will have their first modern concert performances since their creation. Significantly, the last two were premiered by the Music Department Choir at University College Cardiff. The Owen works will be juxtaposed with four of Parry's Songs of Farewell, Debussy's Trois Chansons and Creator alme siderum by Lawrence Whitehead.
I am very proud that this exciting and intensely rewarding project will have fulfilled several key aims. It will have brought a neglected area of Morfydd Owen's compositional output to greater prominence through public performances, as well as having given Megan Auld valuable archival experience working in Cardiff University Special Collections, under the expert guidance of Alison Harvey. Lastly, it will demonstrate how a multi-faceted research project can enrich our lives through the rediscovery of a fascinating period in the history of Welsh music.
Dr Peter Leech