Employability Skills Tips from Martin Flynn. Useful for student and non-student.
3 February 2015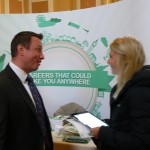 Internship Bootcamp was launched yesterday with a presentation from Martin Flynn, who spoke about Employability Skills. This took place at a classroom in Cardiff Business School and saw approximately 20 people attend it.
Read this blog post and watch Martin's Careers Instants footage on our studentlifecu You Tube channel for an insight into the skills employers look for when recruiting students and graduates.
What happened?
After giving a brief background on the company, Flynn emphasised the importance of having skills. As he puts it, skills are something which are developed from real world experiences and are what make one stand out from the crowd. Essentially, they show an employer that a person has value and can "fit" in with a business and their needs. Sounds pretty important, right? They are.
Hearing about skills from an employer, like Flynn, who works at a massive organisation, really hit home that the importance of having skills is under-rated.
To emphasise this importance, every person who attended this presentation was asked to do an individual project, including myself. We had to come up with examples of where we have developed a skill, and how, using the following ways to show this:
A group project we have done – my example was a group essay I did at University with other class members. Skills developed:Time-management and Team-work.
A job we hold/held – in my case, I have a retail job. Skills Developed: Sales and Customer Service.
Any extracurricular activity – I am part of the Journalism Society at University. Skills Developed: Time-management and Organisational skills.
(Give this a go if you want to figure out what employability skills you have)
The reason Flynn asked us to do this activity was to make evident that we all have real skills, which we can apply to job situations.   Doing this activity put confidence in all of us in the class room as it made evident that we all have something to show for ourselves if we apply for a job. Having said that, it also made obvious that some of us lack skills, and need to improve on this, but Flynn assured us that skills can be developed in many ways.
Brushing up on your skills
If you are lacking in skills, try out volunteer work, get some work experience or join a society. These are great ways to develop yourself and show an employer that you have value. If you are lacking in experience and skills, "you would struggle to get past his application stage" Martin said. However, most skills are transferable and can be developed in dozens of ways, so never worry about lacking value.
Experience = Skills. Skills = Value. Value = A Job.
The daunting job process
Flynn also explained in this session how the job process works. Using Enterprise Rent-a-Car as an example, he told us that the basic order of a job application is:
Application form > Phone Interview > Face to Face Interview > Trial Placement at a Branch > Possible Interview with a Branch Manager > Graduate Assessment Centre.
(N.B: This Company does not conduct psychometric tests, but most companies do).
Flynn discussed that the application form is possibly the hardest stage, as it is not face to face. You have to sell yourself on a piece of paper, but if you have these skills that Flynn talked about in this session, anyone can ace this stage! As for the interviews, the best way to prepare for one is by using Flynn's STAR example as a model:
Situation – a situation you have been in.
Task – tasks you have completed.
Action – actions you have taken to complete the task.
Result –what the end result of that task was (you can also demonstrate to the interviewer what skills you have developed here). To pass an interview, you need to think of situations you have been in – this can be applied to things like a group project you have done, a job you have held, and any extracurricular activity.
A great session which emphasised the importance of having skills when applying for jobs, and what to expect when from it all.
Top tips to take from this event:
Employability skills beat off the competition, so always be on the lookout to develop new skills, and always brush up on the ones you already have. Extracurricular activity and a job (voluntary or paid) are great ways to do this.
Think about the skills you already have. Write down where you have got them from, how they have developed, and examples of where you have utilised them. This will prepare you for jobs and their tough application processes.
Come to careers events like this. Even if an organisation running a presentation is not a company you are interested in, what they might talk about might be very beneficial.
With thanks to Enterprise Rent-a-Car, Martin Flynn and Cardiff University Careers for organising the event. There are many more events to come this week, before Internship Bootcamp ends on the 5th of February. Check them out!
What are your thoughts on employability skills?
Liam 🙂
Related Links:
Image Source: here.*
Search this blog
September 2023
M
T
W
T
F
S
S
1
2
3
4
5
6
7
8
9
10
11
12
13
14
15
16
17
18
19
20
21
22
23
24
25
26
27
28
29
30