Are you commercially aware?
11 February 2015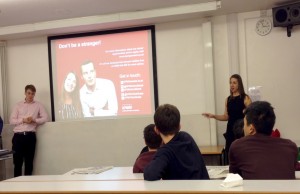 KPMG visited Cardiff Business School to enlighten students on the importance of being commercially aware. This interactive session witnessed around 20 students turn up and proved to be an invaluable source of information.  
What is commercial awareness?
KPMG suggested that being commercially aware is:
Showing a real interest in the business you work in, or plan to work in.
Showing a real interest in the sector you work in, or plan to work in.
Being aware of the risks companies and sectors face.
Being aware of the general business and economic environment.
Why is being commercially aware so important?
The presenters of this session emphasised the importance of being commercially aware, commenting that all employers will examine you in this area. This can happen in job interviews and assessment centres, but even when you get a job – you will always be tested on your commercial awareness.
It is a fundamental quality, skill perhaps, which makes you a more employable individual. No matter what your job, or what your sector of work, every employer wants an employee that is commercially and business aware.
How can YOU be more commercially aware?
Keep up-to-date with the news! This cannot be understated. The news is constantly up to date, so in turn keeps you up to date. With so many news organisations and platforms, you can find the news almost anywhere, so utilise its services. The news will educate you on the business world, and this is what will make you more commercially aware.
A quick look at a headline, a quick scan of a newspaper, a quick ponder on the news channels. One of the speakers of KPMG's session said today that even if you look at the news for 10 minutes, you will make yourself a more commercially aware individual.
The best place to start is at the business section of a newspaper, alternatively try online and broadcast news for business news-stories. A lot of news like this is free, so it is a great tool at making you more commercially and business aware. Engage with it and make yourself more employable. BBC, The Independent and The Financial Times are great resources to do this.
Practicing commercial awareness
As part of this session, everyone in the class had to find a business news-story about a company in one of the newspapers given to them. In my case, I found a story in The Times regarding BT taking over EE in a new business acquisition. As part of this task, I had to answer the following questions:
Think of a company that you are aware of that is performing well at the moment. What do you identify as its strengths?
What do you think are the potential challenges for this company in the future?
What might be the risks to this company?
How might you measure their success?
What business opportunities do you think there might be for this company?
The questions above are helpful aids to help anyone and everyone in applying their commercial awareness practically. If you are ever applying for an internship, graduate role or similar, make sure to study the news surrounding that company, and keep on top of it even when you have the job.
This was a very useful session which gave an insight into the importance of commercial awareness. It demonstrated why commercial awareness is important for everyone aspiring to perform well in their career, and it showed how easy it is to be commercially aware. The news is an invaluable resource that can make everyone more commercially aware, so be sure to utilise it often.
With thanks to KPMG and its employees who came to give this session, and Cardiff University Careers & Employability. If you're a student of Cardiff University, find out more about Careers & Employability and employer events on Twitter and Facebook or call into The Student Support Centre, 50 Park Place, Student High Street.
How do you stay commercially aware?
Liam 
Related Links:
Image Source: here.*
---
Comments
Search this blog
October 2023
M
T
W
T
F
S
S
1
2
3
4
5
6
7
8
9
10
11
12
13
14
15
16
17
18
19
20
21
22
23
24
25
26
27
28
29
30
31