Why It Has Never Been a Better Time to Study Law – Dr Russell Sandberg
7 November 2016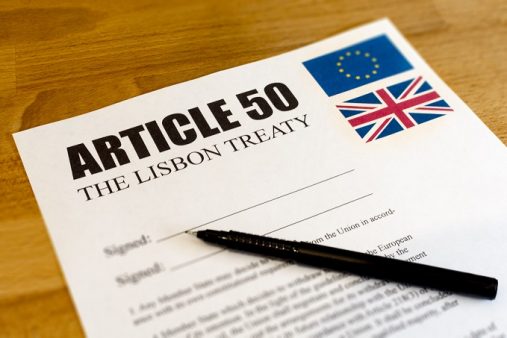 Law students are used to seeing topics they study appear in the media. Almost every item on nightly news bulletins has a legal dimension and where would most TV dramas be without the big courtroom scene? However, this has become even more common following the result of the Referendum on membership of the European Union. Whatever form Brexit takes, it will have an important legal dimension requiring the meticulous unpicking of complex overlapping laws.
In the aftermath of the Referendum result, the study of Law has rarely been more topical or more important. Studying Law always has a real life dimension. Law is extensive; it covers almost every aspect of everyone's life. The receipt in your pocket and your contract of employment are both everyday examples of contract law, for instance.
Moreover, studying law brings us into contact with the controversial topics of the day. The Law syllabus is constantly being rewritten as a result of the enactment of new laws by Parliament and the decisions of courts and tribunals up and down the land.  This also means that Law is diverse:  there is something for everyone given the different areas of Law, whether you are more interested in commerce and finance or human rights and the environment.
Studying Law not only allows students to understand what the Law is today but also how it has developed and how it is likely to develop. It equips them to master the detail of provisions and their real life application as well as the broader context in which the Law operates. The study of Law not only produces better informed citizens but develops a range of important skills such as mastering long and complex documents, the close analysis of texts, questioning the reliability of sources and being able to think on your feet, to name just a few.
A Law degree therefore opens doors to a range of careers. Indeed, a survey in 500 employers in the UK in early 2016 asked what degree they would prefer their employees to have. Law came top of the list with employers rating the 'aptitude for learning', communication and leadership skills that Law graduates have.
In an increasingly uncertain job market, having a Law degree clearly makes you stand out. And this is especially true of a Law degree from Cardiff University. At Cardiff, in order to equip our students with the skills that they will need in order to prosper in a range of jobs both legal and non-legal we provide them with 'Law in the Real World'. We do this by placing emphasis upon both research and employability.
If you study Law at Cardiff you are taught by experts in the field who are producing world-quality research. Our research informs and impacts upon wider society.
According to the last Research Excellence Framework survey, Cardiff University is in the top five universities in the country for research excellence and we were in the top four for impact in Law.
Our multi-award winning Pro-Bono Schemes provide a range of opportunities for students to work on real life cases under supervision. We are home to the only pro-bono scheme in the country to have helped overturn a criminal conviction. Our students can also benefit from a paralegal placement scheme which has won the award for best collaboration between a university and an employer at the Undergraduate Employability Awards.
If you want to understand the society in which you live, the major issues that shape the life of the nation and how this affects everyday life then the study of Law is for you. If you are concerned about injustices and inequalities, the global context in which we live and way in which we respond to social and political change, then studying Law in the Real World at Cardiff is for you.
The current climate shows how studying Law is more important, topical and exciting than ever. If you want to be part of that adventure, apply to study with us from 2018-2019. Further information about our undergraduate and postgraduate courses is available online and you can email any queries to lawpladmissions@cardiff.ac.uk
Dr Russell Sandberg is Head of Law and Reader in Law at the School of Law and Politics at Cardiff University.