Law in the Real World at Cardiff – Dr Russell Sandberg
28 November 2016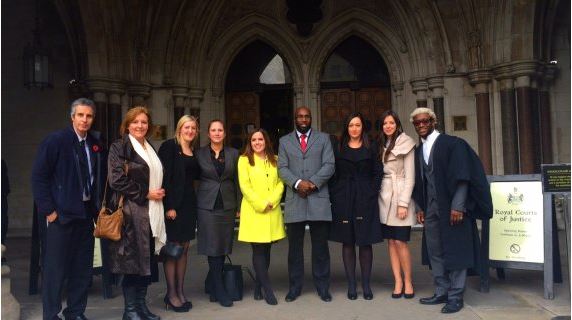 Cardiff's focus on Law in the Real World means that we place a special emphasis upon employability ensuring that our students graduate with the skills that they will need to thrive in the twenty-first century. Our multi-award winning Pro-Bono Schemes provide a range of opportunities for students to work on real life cases under supervision and have led to a number of notable successes. Set up in the academic year 2005/6, Cardiff is now home to a number of schemes where our students have made real differences in people's lives:
Our Innocence Project was established following significant interest from students in the area of criminal law and, in particular, miscarriages of justice. Students work on cases of long-term prisoners maintaining their innocence of serious crimes for which they have been convicted. The Cardiff Law School Innocence Project is the only such project in the UK to have overturned a criminal conviction. The work of Cardiff students overturned a murder conviction in the Court of Appeal (pictured above).
Our NHS Continuing Health Care (NHSCHC) scheme addresses the issue of funding. This is an increasing problem nationwide which affects a vulnerable section of the community, predominantly those suffering from Alzheimer's disease and other forms of dementia. Such individuals may find themselves in nursing homes, paying their fees privately, where arguably they are entitled to have the cost of their care met in full by the NHS.
Working in partnership with the Welsh Rugby Union, our students provide a free legal advice service to Welsh rugby clubs, in English or in Welsh. The Scheme is supported by the law firm Hugh James and by Civitas barrister chambers.
We work with Mencap Cymru to deliver the Mencap WISE project, which is funded by the Welsh Government.  Students work in 'firms' to research the law and produce tool kits, which Mencap Cymru's caseworkers use to support people with learning disabilities and their families/carers to access their legal entitlements to services.  The toolkits cover a variety of legal topics, and are available as public access documents via the Mencap Cymru
The Global Justice Pro Bono programme provides research and assistance to Deighton Pierce Glynn in its work for individuals and civil society organisations in the UK and overseas. Its first case related to evictions and slum clearances in Kenya. This year, the programme is focusing on human rights claims arising from the operation of the North Mara gold mine in Tanzania.
Our newest scheme is a partnership with the Environmental Law Foundation (ELF), one of the world's oldest pro bono environmental law advice and representation charities. Our theme this year is Welsh Government proposals for the expansion of the M4 motorway in the Newport area. The ethos of ELF is to secure a level playing field within society.
Through our Hafal 'Appropriate Adult' Scheme, Wales' leading mental health charity trains students to work as Appropriate Adults, to support vulnerable adults being interviewed after being arrested. Once trained, our students volunteer to be on a call-rota that covers a range of police stations in South Wales.
The Personal Support Unit, a national charity, trains students to assist litigants in person at the Civil Justice Centre in Cardiff. It provides free, confidential, independent, non-legal support to clients, to help them through the court process. Our students work with PSU volunteers to offer practical support and assistance (but not legal advice) to people at the Cardiff court who are generally unrepresented by lawyers.
Our students also have other volunteering opportunities. These include the Duncan Lewis law clinic, where they are exposed to different areas of law and practice undertaken by this large legal aid law firm, including Family, Asylum and Immigration, and Housing Law. They are also involved in different ways with the charity Asylum Justice and the Bail Observation Project.
We have also teamed up with top 100 UK Law firm, Hugh James, to offer a number of our students the opportunity of a year-long paid work placement. Cardiff is also the only Russell Group University to provide all the undergraduate and professional vocational training currently needed by both aspiring solicitors and barristers before they undertake a training contract or pupillage.
Our Devolution in Practice module provides students with a 20-day work placement at an organisation that plays a key role in Welsh governance, and a series of lecture seminars delivered by leading practitioners and academic experts in the fields of Public Law and Politics. Speakers from the Welsh Government and the National Assembly for Wales both hold seminars for our second year devolution students.
We also offer a range of careers workshops throughout the year alongside a programme of employer talks with representatives from law firms, barristers' chambers and other law-related organisations.  The School has its own Law Careers Consultant, based onsite, and available to help with all aspects of the career planning process.  The annual Cardiff Law Fair attracts around 40 legal exhibitors including a range of Magic Circle, City, National and Regional law firms as well as representatives from barristers' chambers, the Government Legal Service and the Chartered Institute of Legal Executives.  A smaller event in the Spring Term helps Law students explore law-related opportunities outside the traditional solicitor and barrister routes.
Our student-run Law Society also provides a range of training and networking opportunities. Activities in recent years have ranged from students running legal arguments in the Supreme Court to cocktail-making with a local solicitors' firm. And staff and students raised over £500 in sponsorship in September as part of the Cardiff Legal Walk for Reaching Justice Wales. Our location within the City Centre means that our students cannot help but rub shoulders with legal and other professionals who work in the surrounding area.
It is no wonder that Cardiff University is among the best in the UK for preparing graduates for the workplace. However, it is not all work and no play at Cardiff. Cardiff University has been ranked first in the 'Good Social Life' measure and Cardiff provides everything you could possibly want from a capital city in terms of shopping, eating out, culture and night-life. Not only is it one of the cheapest places to study in the UK but Cardiff is also the only University where you might bump into stars from BBC dramas such as Doctor Who, Sherlock and Casualty who all regularly film in and around the campus.
A recent BBC News article asked does it matter which university you study at? The report stated that 'Students taking courses such as medicine, economics, law and maths are likely to be earning much more than the average graduate' and that 'the combination of these two factors is going to decide the likely financial benefits – the university and choice of subject'.
Studying Law at Cardiff allows students to 'do the double': to study a good subject at a good University.  It has never been a better time or a more important time to study Law.  And Cardiff's Law in the Real World focus means that our students share their classrooms with world-leading researchers. Our focus on employability equips our graduates with the skills needed in an increasingly uncertain, complex and competitive world.
If you want to join us, apply to study with us from 2017-2018.  Further information about our undergraduate and postgraduate courses is available online and you can email any queries to lawpladmissions@cardiff.ac.uk
Dr Russell Sandberg is Head of Law and Reader in Law at the School of Law and Politics at Cardiff University