Gender Rules:  Research Methods in Law – Dr Sharon Thompson, Dr Lydia Hayes and Dr Dan Newman
10 June 2016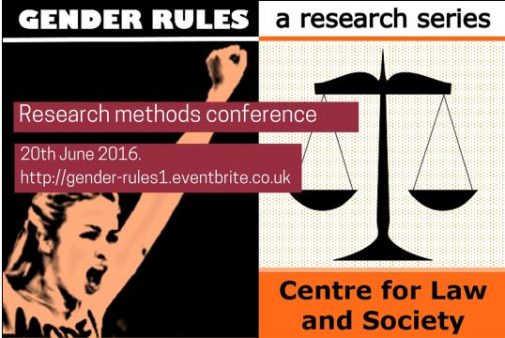 In 2016 the Centre of Law and Society funded a research series titled 'Gender Rules', supporting the emergence of a new research group on Law and Gender in Cardiff Law School.
The Law School will host the first event of this series on Monday 20th June; a research methods conference examining the importance of gendered approaches to legal research and the role of law in variously reaffirming, underpinning, or re-envisaging gendered social relations.
The conference aims to highlight the fact that legal research almost always has a gendered dimension to it, and whether issues of gender are a core component of our research or not, an awareness of the role of gender within our work provides an invaluable perspective on our own disciplines. Put simply, we argue that law can be explored as a body of gender rules.
As part of this one day event, the UK's leading scholars of law and gender will speak about methodological approaches used in research. Each guest speaker has recently authored critically acclaimed work in the field of gender and law. Their presentations will each explicate the methods and approaches they employed when writing about the relationship between law and gender in innovative ways. The conference will focus on their use of discourse analysis, qualitative analysis of judgments and historical method in common law.
Dr Ania Zbyszewska (Warwick University) will deliver a session on discourse analysis and regulatory design, based on her book Gendering European Working Time Regimes: The Working Time Directive and the Case of Poland (CUP 2016). In this work, Dr Zbyszewska employs feminist, socio-legal approaches to evaluate how assumptions regarding the division of paid and unpaid work affect the standard approach to regulating working hours.
Professor Lizzie Barmes (Queen Mary School of Law) will examine the qualitative analysis of judgments. In her book Bullying and Behavioural Conflict at Work: The Duality of Individual Rights, (OUP 2015) Professor Barmes uses case law, primary research and an interview study to bring together and examine experiences of behavioural conflict at work, and the role of law in influencing such conflict.
Professor Joanne Conaghan will speak about approaching common law as gendered legal heritage. Professor Conaghan is the author of Law and Gender (OUP 2013), which comprehensively explores the jurisprudential implications of gender studies in law.
The conference will also include presentations from Cardiff academics, led by Professor Ambreena Manji. These presentations aim to address a range of methodological questions for academic lawyers, such as:
What are 'gender rules'?
Why is the gendering of knowledge at issue in legal research?
Are methods in law a feminist issue?
In reflecting on these issues and on the methodological approaches employed by Dr Zbyszewska, Professor Barmes and Professor Conaghan, it is hoped that conference delegates will consider how expressions of gender in law can be explored through attention to legal rules, whether grounded in statute or common law.
Registration for the research methods conference is free and tickets can be booked at Eventbrite