Beyond the statistics: South Sudanese refugees, rights and paperwork in Uganda – Nicki Kindersley
13 July 2017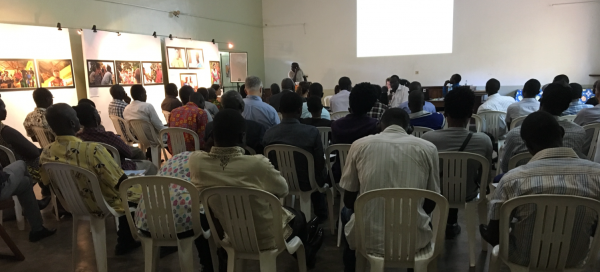 Cardiff's new Law and Global Justice Centre is now home to a new project focused on South Sudanese refugee histories of accessing rights, citizenship and legal paperwork. In partnership with Dr Mohamed A. G. Bakhit of the University of Khartoum, over 2017 I have been conducting research on the Congo-Uganda-South Sudan borderlands, exploring local histories of the production of rights and paperwork by residents and refugees in refugee camps and rebel territories, within weak and militarised bureaucracies, and within creative but exploitative 'grey' economic systems. The project looks at the local and historically-rooted moral codes of accessing rights and freedoms across these often violently-governed and rebellious borderlands: at people's own definitions of il/legalities, rights, order, and responsibilities.
A public project workshop at the National Museum of Uganda on 26 May gave space for these questions, and tapped into South Sudanese audience members' ideas. With Mohamed Bakhit and Liz Storer (LSE), we brought together two panels of South Sudanese speakers, including Peter Hakim Justin (Wageningen/Leiden), Atem Elfatih (Likikiri Collective, Juba), Ogeno Charles (The Child Soldier Project), and Bashir Ahmed Babikir (refugee and legal rights activist, Yambio, South Sudan), with an audience made up of young regional academics, civil society activists and South Sudanese refugees.
Some key questions emerged from discussion, significant to the Centre for Law and Global Justice and sparks for further thought and research. Several papers and audience members challenged the categories assigned to refugees and citizens. Mohamed Bakhit explored the complexities of long-term displaced South Sudanese communities' precarious rights and lives in Sudan, demonstrating the multiple ways that residents claim rights and forms of citizenship – despite being de facto stateless. Atem Elfatih, founder member of the pan-Sudan theatre collective Kuato in the second civil wars and director of the Likikiri Collective in Juba, drew on his family's history of military conscription, slavery, forced migration, and ethno-religious heterogeneity to further question these legal definitions and categories of citizenship.
In the current humanitarian and refugee crisis in Uganda, Ogeno Charles, Clement Maring Samuel, Peter Justin and Bashir Ahmed Mohammed Babikir asked: how do we define displacement if the South Sudanese state is actively involved in forcing people into exile, as an 'intended consequence' of war? Who then should shoulder the 'responsibility to protect' if the state is actively targeting its own citizens? What does this mean for the supposedly apolitical category of 'refugee', in the Uganda context where many refugees are becoming 'warrior refugees' in South Sudan's rebel movements?
These questions speak directly to the themes of the Citizenship project: what constitutes legality and legal paperwork in these settings, where people do not match the categories on available documents, and where localised and family conflicts and opportunities are tangled up with displacement – including, as Ogeno Charles noted, young women fleeing forced or abusive marriages, and people moving across soft state borders to more easily access kin networks of remittances and financial support in the region and beyond. In these circumstances, what constitutes corruption or fraud in local terms?
A final open discussion was both lively and intense, sparking high emotions among attendees who together had heterogeneous backgrounds and experiences of the current civil war. One attendee said, 'it was a learning experience for me, a dialogue to chart a new way to bring the conflict to an end and promote sustainable peace.' Many of the 80 participants and audience members emphasised that this was the first time they had the chance to voice their views and explore these debates around displacement – highlighting a massive intellectual and critical gap in support for South Sudan's refugee communities. More space is clearly needed for hard conversations among South Sudan's refugee communities.
The workshop has expanded the research agenda for Mohamed Bakhit and myself for the next year, and we will be bringing our analysis, book project, events and seminars to the University; we look forward to discussing this research with the researchers and the refugee residents of Cardiff.
Travelling exhibition: Enduring Exile (LSE Atrium, London)
These debates took place against the dramatic backdrop of the Enduring Exile project exhibition, documenting Arua refugee communities' emotional struggles to understand, articulate displacement, loss, disorder, societal reconstruction and possible futures. The Enduring Exile project is a collaboration between Elizabeth Storer (research) and Katie G. Nelson (photography), and it can be viewed online at www.enduringexile.com. Curation for this exhibition was provided by Kara Blackmore (LSE). The Enduring Exile Exhibition remains on display at the National Museum of Uganda, and will appear in the Atrium, London School of Economics, later this year.
The Beyond the Statistics workshop was supported by funding from the Haycock Grant, administered through the British Institute in Eastern Africa; and by funding from the 'Nationality, Citizenship and Belonging for South Sudanese Communities' grant from the Volkswagen Foundation.
Nicki Kindersley has joined the Law and Global Justice research group as a post-doctoral fellow working on an international research project on citizenship in South Sudan.