'Turkish Opening to Africa: Challenges and Opportunities for the African Students in the Turkish Capital' ISRU Work-In-Progress Seminar with Dr Engin Akcay 30.10.2019
26 November 2019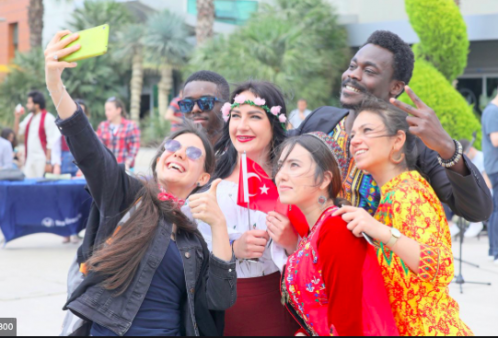 ---
Turkish Opening to Africa: Challenges and Opportunities for the African Students in the Turkish Capital
Dr Engin Akcay 30.10.2019
On the 30th of October, Dr Engin Akcay presented his draft paper 'Turkish Opening to Africa: Challenges and Opportunities for the African Students in the Turkish Capital' at the first ISRU Work-In-Progress Seminar of the new academic year. Dr Akcay is a Visiting Scholar in the School of Law and Politics at Cardiff University. His primary research interests are African Politics, Human Security and Foreign Aid Politics. Dr Engin Akcay served in several Turkish government institutions including the Ministry of National Defence, the Ankara Chamber of Commerce, the EU Affairs and Cross-Border Cooperation Unit of Turkish Aid (known as TiKA) and the Ministry of Interior, before shifting his career to academia in 2012 with the completion of his PhD Entitled 'Turkish Foreign Aid as a Foreign Policy Instrument' originally published in Turkish.
This paper, presented at the WIP seminar, is part of a two-part research project looking at Turkish opening to Africa through the policy of recruiting African students to Turkish higher education institutes in Ankara entitled 'Turkish Internationalization of Higher Education: The Case of African Students Studying in Ankara'. The paper is co-authored and the wider study co-conducted with Dr. Farkhad Alimukhamedov. Dr Alimukhamedov is a post-doctoral scholar at the Institut d'Études Politiques (IEP) Toulouse. He completed his PhD entitled 'Migration for studies. A socio-political analysis of the trajectories of Uzbek students in France and the UK' at the Paris Dauphine University in 2011. Dr Alimukhamedov and Dr Akcay have a long-running and extensive collaborative relationship, predominately co-authoring research on migration for higher education and its relationship with foreign policy.
In this paper, Dr Alimukhamedov and Dr Akcay explore the challenges and opportunities for African students in Ankara. The researchers conducted a survey of 184 African students from 31 countries who were studying in Ankara. This sample represented over a tenth of the 1200 African students in Ankara at that time when over 5000 African students were studying in Turkey. The study also included the stories shared by the students during their stay in Turkey. Based on the findings, the authors ascertain that mutual perceptions are better shaped when a fair dialogue developed between the students and the host society; otherwise the perceptions are potentially dominated by prejudices, ignorance and language barrier.
Following the ISRU Work-In-Progress seminar I met with Dr Engin Akcay to discuss his research and this project at greater length. Dr Alimukhamedov was also kind enough to contribute to the elaboration of this blog post via email.
I noticed that you and Dr Alimukhamedov have published many articles, chapters and books together in a collaborative relationship that spans several years. How did this collaboration first come about and why do you think you work so well together?
We first met at Turgut Ozal University – TOU – where we interestingly started to work on the same day and in the same department. Although we still have different approaches to some IR issues, we have been able to synthesise our ideas in several joint publications and projects so far. As far as I remember, one of the first steps we took together was publishing an article in 2013 on Turkish-Uzbek relations when the bilateral affairs were almost frozen. Thus, I think, we not only modestly contributed to our national foreign policies but also better understood each other. If this could be called as learning from each other, I could honestly say that I have been the luckier one.
Much of your previous research looks at Turkish foreign policy and in the first part of the study you engage with the increased number of African students in Turkey as a deliberate foreign policy objective. Why do you think the Turkish government wants to attract African students to Turkey? What are the foreign policy objectives here? Why do you think that these students choose to come and study in Turkey?
Many scholars argue that Turkey's initial interest towards sub Saharan Africa (and Latin America) was related to country's diplomatic difficulties in the UN on Cyprus issue in a search for alternative partners. However, over time other areas of cooperation such as trade or education also became significant. Consequently, as the Campus France report indicates Turkey achieved the highest growth (1255%) in attracting students from Sub Saharan Africa between 2010 and 2015. The Turkish government portrays scholarships offered for African students as a tool of soft power, encouraging people to people contact and a part of her humanitarian diplomacy. In fact, Turkey seeks to expand her political and economic influence in Africa like other new actors such as China, Qatar, Saudi Arabia who also reinforce their presence in the continent by proposing similar scholarships for Sub-Saharan students.
Numerous studies show that the choice of Turkey for international students mainly explained by a better quality (in relation to the country of origin), a cheaper cost of life, opportunities of getting scholarship and advice of a family or friends. We also found out that, Turkey's increasing role in the region also encouraged many African students to choose her as a country of destination. Some students underline Turkeys economic performance for post study projects. However, there is a decisive impact of scholarships (public, private or reduced tuition fee) and networks in decision making process.
We confronted with a fait accompli as our research was conducted in Turkey. Research on a study of push factors on country basis will provide a better analysis of study abroad motivations of African students.
One of the really interesting aspects of the paper, for me, was the way in which some of the behaviour and stereotypes that the responses suggested some Turkish people had towards these students were not based on overt racism or hatred but general ignorance of Africa and African politics beyond one-dimensional ideas and poverty and suffering associated with popular culture. Do you think that this is a problem in Turkey more generally? Does academia in Turkey suffer from this problem too?
Following Turkey's Action Plan (1998) towards Africa, there is an increasing interest in Africa not only at state-based affairs but also at academia and think tanks, civil society, and business sectors in Turkey. More specifically, while the number of African students increase each year, trade and Turkish aid to the continent rise as well. Additionally, some Turkish think-tank institutions see Sub-Saharan Africa as a crucial geographical area instead of focusing only on North Africa under their Middle East sections. However, there is still a lot to do for the parties to be able to know each other better. In Ankara case for instance, when hearing the word Africa, the first thing comes to the minds of many local community members is still poverty, if not drought or hunger. As to the academia, traditionally, United States, Middle East and Europe, are still prioritised areas in teaching and research, comparing to Africa. We think Turkish students (and African students studying in Turkey) should be encouraged to prepare their master and doctorate theses scrutinising various aspects of the bilateral relations.
Why do you think it was that students felt comfortable to explore some of the more challenging moments of their interactions with Turkish society through the lens of humour (the funny story)?
We think this is both a very clever way of communication and a unique example of civil diplomacy. One more time we have witnessed that African students have very strong sense of humour, even in challenging circumstances. Of course, Turkish culture too is very rich in this sense, however, what is required to be able to be at the same page are mutual acquaintance, being aware of cultural sensitivities, and better communication when language is the barrier, etc…
You seem to have done quite a lot of work with African students, such as founding the Africa United Club in 2013, what motivates you in your desire to facilitate these cultural interactions between African students studying in Turkey? What do you think Turkey can learn from these students?
Established as a student club at TOU, the Africa United Club served as a platform for both African students in Turkey and many other (Turkish and international) students who are interested in African studies. Along with many seminars and cultural activities, the club achieved organizing African Day events each year (2013-2016) wherein most of the African diplomatic missions to Turkey was actively participated. In this respect, we would like to underline two points; first, we see African (and international) students are the potential carriers of the future relations between the host countries and their respective countries. Secondly, just to recall that, when we talk about Africa, it is not a single culture. That is a unique civilisation, consisting of 55 countries having many ethnic/religious/cultural diversities with extraordinary characteristics. There is another Africa beyond our imagination that is limited with documentaries, misperceptions, prejudices, etc..
As someone who worked in government institutions yourself before returning to academia what do you think this brings to your research particular with regard to the study of foreign policy?
Mostly at foreign affairs related posts, my modest service at Turkish governmental institutions have enabled me not only to better understand Turkish perspective in international relations but also to observe the approaches of our counterparts. Then shifting to academia as of February 2012, I have had the chance to blend my previous experience with an academic and analytical viewpoint. Inspired from my experience at Turkish Aid (TiKA), I wrote up my PhD thesis on Turkish foreign aid politics. In this particular case for instance, 'foreign aid' means a lot to me in addition to its academic context. I can generally state that international relations has been, if I may say, a more tangible discipline for me.
Thank you for presenting your research at the ISRU Work-In-Progress seminar and welcome to the School of Law and Politics! We all look forward to hearing more about this fascinating research.
It's our pleasure. Appreciate your kind interest in our research study