'The Bingo Project' ISRU/CCGP Frontiers Lecture with guest speaker Professor Kate Bedford – 20th of November 2019
13 January 2020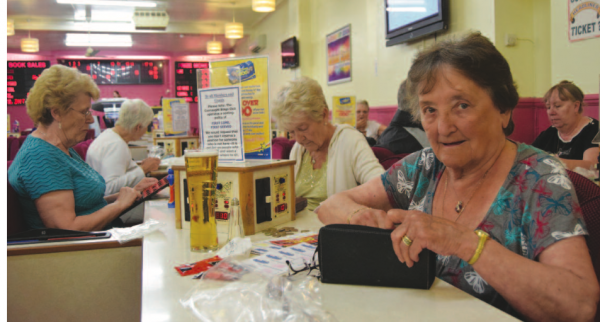 'The Bingo Project' ISRU/CCGP Frontiers Lecture with guest speaker Professor Kate Bedford – 20th of November 2019
---
On the 20th of November, the International Studies Research Unit welcomed guest speaker Professor Kate Bedford for our flagship annual frontiers lecture. This event was co-sponsored by the Centre for Critical Global Politics. Professor Bedford is a Professor of Law and Deputy Head (Research) of the Birmingham Law School at the University of Birmingham. However, Professor Bedford is an interdisciplinary scholar whose work brings together gender/sexuality studies, socio-legal studies, political economy, and development studies. In 2009, she published a monograph entitled Developing Partnerships: Gender, Sexuality, and the Reformed World Bank arguing that development institutions are key players in the global enforcement of gender and family expectations. More recently, Professor Bedford has been researching the gendered political economy of gambling. Indeed, at the ISRU/CCGP Frontiers Lecture Professor Bedford presented her latest large research project, 'The Bingo Project'. The Bingo Project was a three-year-long research initiative, funded by the ESRC, looking at how bingo is regulated in England and Wales, Canada, Brazil, and online in the European Union.
Bingo is a globally significant form of gambling that is played differently around the world and is becoming increasingly popular online. Yet, it is an under-researched form of gambling: far more attention is focused on casinos, poker, and gambling machines. The Bingo Project looked at the fundamental legal and policy challenges in regulating bingo, and how they are experienced and negotiated by those involved in the bingo sector. It also related those challenges to timely debates in a range of academic literatures, about law and regulation of diverse economies, about social responsibility, harm, and new technologies, and about risk, welfare, and mutual aid. According to the Bingo Project's website, the study focused on 'people who make laws and policies; people who enforce those laws and policies; people who manage commercial bingo games, whether online or in halls; hall workers and callers; charities and religious organisations that use bingo to fundraise; volunteers who work for those charities; people who run bingo in alternative forms (like drag bingo) and, of course, bingo players themselves'.
Fundamentally, Bedford argues that bingo is a form of gambling that, in many countries, is traditionally predominately associated with the working classes and women. The project looked at women's work in sustaining bingo venues, as well as the key organisational/administrative roles played by women and women's committees. The Bingo Project's focus on bingo suggests the need for a shift in the often-masculine accounts of political economy and gambling, focused on casinos. The gendered symbolism of the casino is commonly used by commentators and scholars to talk about capitalism critically. In contrast, Professor Bedford claims that gambling studies is prone to neglecting sites such as bingo where women are not only a high percentage of those playing, but also play key roles as organisers. Indeed, Professor Bedford's research looks at how the predominately female workforce operates within, around and renegotiates the legal frameworks and regulation of Bingo.
Following the completion of 'The Bingo Project!', Professor Bedford published, in September of this year, her book entitled 'Bingo Capitalism'. This book builds on some of the findings of the Bingo Project and focuses on gambling, law/regulation, feminist political economy, and why bingo matters to critical scholars more generally.  In this book, Bedford advances a new theoretical understanding of the relationship between gambling and political economy, exploring the gendered way in which state regulation interacts with diverse economies of speculation. 
Following the lecture, Professor Bedford was kind enough to agree to answer a few of my questions about her research and this project.
Rosa:
One of the aspects of your lecture that captured many of us was the way in which you suggested that you felt you had needed to fight to justify the relevance and significance of this research project throughout. Why do you think that you were under such pressure to demonstrate the 'impact' of this study? Do you think that these more 'masculine/casino orientated' case studies in research on gambling do not face the same pressure to justify themselves?
Professor Kate Bedford:
As an outsider who came to the subfield only relatively recently, via work in political economy, I think that gambling studies is generally haunted by worries about academic legitimacy. My sense is that many brilliant critical gambling scholars, in diverse disciplines, feel that the broader implications of their work – for our theories of capitalism, risk, harm-production and prevention, speculation, and so on – are somewhat under-utilised. So, ironically, you can have political economists writing about casino capitalism, as an analogy, without citing experts on the relationship between corporate gambling expansion and neoliberalism. And it doesn't help that much gambling research funding is tied to very narrow industry-led concerns that offer little to broader academic debates: critical gambling scholars have been saying this for a long time.[1]
That said, however, worries about academic legitimacy are certainly much more intense when one studies a sector like bingo, marginalized in the already overlooked subfield of gambling studies. For a time, I renamed the Bingo Project the 'career suicide project' for that reason: the originality and rigour of the research was not a problem, but stopping people laughing for long enough so that I could explain the broader significance of the findings proved a bit of a challenge. My inarticulate mumbling may well have played a part there, but I don't think that we can fully explain the challenge without attention to who plays the game. In many countries, including the UK, bingo is especially popular with older, working-class women; indeed it is one of the only forms of gambling that is more popular with women than men. First Nations players are a key part of the player base in other countries, such as Canada: in one study of First Nations gambling in Saskatchewan, for example, bingo was played by 36% of respondents, compared to 2% who made speculative investments (in stocks for example).[2] The assumption that stock markets, rather than bingo halls, are the best place to start when thinking critically about everyday economies is thus in part about who, and what, we centre in our accounts of political economy. Corporate gambling sectors – like electronic gaming machines – are an easier fit with dominant accounts of political economy than sectors, like bingo, that straddle the commercial and the non-commercial, by mixing charity, mutual aid and profit-making play. 
Rosa:
The traditional forms of gambling we are used to engaging with are ones like casinos or betting shops. Studies of these gambling sites often portray them as associated with greed or exploitation. Your choice to focus on Bingo seems to introduce a new way of conceptualising the political economy of gambling through ideas of mutual aid gambling, for example. Was this an intentional decision to try and provide a different account of gambling and consumption more generally?
Professor Kate Bedford:
It was, yes. I very much wanted to pay serious feminist, socio-legal attention to actually-existing, plural economies of gambling. Specifically, through bingo, I seek to tell a new story about mutualism, and the state's role in shaping diverse (gambling) economies. By way of analogy, Ann McClintock was not a scholar of soap, Cynthia Enloe's theoretical contribution to IR was not banana-specific, and Inderpal Grewal was not, just, interested in Barbie. Through soap, bananas, and dolls, these feminist academics provided new insights into empire, international politics, and transnational cultural economies. I'm trying to use bingo is a similar way.
We know already, from anthropological and sociological work on play, that gambling has diverse political-economic meanings, and is not just about individuals winning money.[3] Gambling can involve the celebration of individual risk-taking, in commercial environments, but it can also involve sociality and group bonding; raising money for charity; showing love to family; sharing resources within the community; cementing national and imperial ties, or securing survival in informal economies. We need to ask ourselves why certain elements of this landscape (especially casinos) are hyper-visible in our academic accounts, and why others, hiding in plain sight, are sublimated. We also need to ask what role the state plays in cultivating this landscape, by promoting, channelling, bolstering, weeding out, or suppressing certain dimensions of playful speculation.
To do that, I looked especially to scholarship, inspired by feminist geographers J. K. Gibson-Graham, into the more-than-capitalist economy. This aims to chart, and theorize, economic diversity, including within national economies framed as capitalist. Attention is given to alternative and solidarity economies, as manifest in realms such as cooperatives, gift exchange, mutual aid, time-banking schemes, and volunteering. Attentiveness to such diverse realms aims to deconstruct dominant, 'capitalocentric' representations of the economy. 
In essence, I was trying to contribute to this scholarship on diverse economies while retaining an interest in the broader governance and regulation of capitalist markets. In short, I think it is important for us to better understand how diverse economies can, and can't, exist alongside each other, including by exploring how law and regulation shape that coexistence. And I think that bingo is absolutely wonderful entry point for that set of conversations
Rosa:
In the lecture you spoke predominately about the research sites in the UK, I was just wondering if you could tell us a little more about how these compare to the other case studies in the Bingo Project such as Brazil, Canada and elsewhere in the EU? Is Bingo regulated in a very different way in these countries? Do we see similar demographics and behaviours of the workforce?
Professor Kate Bedford:
That is a really important question, but the answer is very long: my colleagues and I wrote an 86 page report, aimed at policymakers, on how bingo was regulated in the 4 case studies, so the most in-depth answer is probably there!. We also included articles on the Canadian, Brazilian, and EU case studies in a recent special issue of the Journal and Law and Social Policy, on gambling regulation, so that may be helpful. Put briefly, though, my colleagues Toni Williams and Maria Luiza Kurban Jobinfound that Brazil offers a crucial example of a recent backlash against bingo. Brazil prohibited bingo (along with most other forms of gambling) from the 1940s until the early 1990s. After the legalization of bingo in 1993, done to help fund the development and democratization of sports, the game was expected to grow and to root itself in popular culture as a safe and social leisure practice. Rapid growth occurred as large, profitable bingo halls were established in many cities, particularly in Brazil's prosperous South and South East regions. But the legalized Brazilian bingo industry and its regulators were repeatedly ensnared in corruption, organised crime and money laundering scandals. So, just seven years after opening a legal bingo market, the federal government sought to close it. By 2007, prohibition had been, in effect, reinstated as Brazil's mode of regulating bingo and the game had been driven underground. 
In turn, my colleague Donal Casey, who led the EU research, found that the move to the online environment challenges how national regulators seek to regulate bingo. In particular, this shift raises the question of whether, and to what extent, the rules governing land-based bingo are appropriate for online bingo. He recommends that policy makers and regulators should consider how bingo could be better represented in policy debates at the EU level. More comprehensive outreach with stakeholders, from large commercial operators to small charities, would help improve the conversations about the distinctiveness of the game and the effectiveness of regulations impacting operators and players. Relatedly, the focus of EU level discussions about consumer protection in online gambling has been on issues such as problem gambling, underage gambling, and responsible gambling. Greater attention should, he says, be paid to ensuring a minimum level of substantive fairness for customers.
Rosa:
It is clear, from your lecture, that this project involved vast amounts of fieldwork, a lot of playing bingo as well as some interesting and entertaining moments. Could you give us one of your favourite Bingo-related experiences from this fieldwork?
Professor Kate Bedford:
Before I answer that, can I just clarify that no ESRC funding was used for bingo play. I funded all of my play from my own funds: I don't want rumours starting otherwise!
I loved the fieldwork part of the project: even the hard bits were instructive. When I crashed a car on the way to an interview at a non-commercial club, in a blizzard in Ontario, I ended up getting dug out of a snowbank by the bingo organizer and we had a great chat.
I was also once mistaken for the Cher impersonator, in a working men's club in South Wales.
A woman asked me, in the toilet, if I was the Cher, there to do the singing in the half-time interval show between games. I had to admit that no, I was just a researcher, there to learn more about bingo rules. The disappointment in her face told me all I needed to know about the perceived relevance of academics.
The ISRU would like to thank Professor Bedford for coming to Cardiff and presenting her groundbreaking research at our annual Frontiers Lecture. We would also like to thank all of those members of staff and students that attended the Frontiers Lecture, as well as, The Centre for Critical Global Politics for helping us organise and co-sponsoring this lecture.

---
[1] See, for example, the great work led by Rebecca Cassidy on producing gambling research, available here : https://www.gold.ac.uk/gamblingineurope/report/
[2] 'First Nations Approach to Gambling Addictions', paper presented by Crystal Janvier, Federation of Saskatchewan Indian Nations, Dianne McKay, and Elaine Lavalle, FHQ-White Raven Healing Center, at the 16th International Conference on Gambling and Risk Taking, June 2016.
[3] See fuller discussion of this, and the gambling scholars who have evidenced it, in the book.