'Security Governance Through Everyday Insecurity Practitioners: Stop Street-Harassment campaigns and authoritarian neoliberalism in Cairo' ISRU WIP Seminar with Dr Elisa Wynne-Hughes 20.03.2019
5 April 2019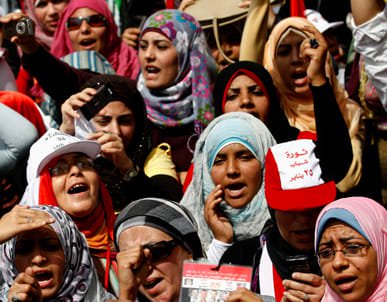 On the 20th of March 2019, the ISRU welcomed Dr Elisa Wynne-Hughes as part of the Work-In-Progress Seminar Series. Dr Wynne-Hughes is a lecturer in International Relations in the School of Law and Politics at Cardiff University. She completed her Ph.D. at Bristol University after having read for an MA in Political Science in Toronto at York University. Dr. Wynne-Hughes' research focuses on the way in which security is defined in the everyday with particular interest in Egypt. Dr. Wynne-Hughes has produced extensive research on the politics of tourism and tourism as an object of security and international relations. Dr. Wynne-Hughes is currently working on anti-street sexual harassment groups in Cairo as part of a larger research project that looks at such groups globally through the lens of everyday (in)securities. 
In this article, 'Security Governance Through Everyday (In)security Practitioners: Stop Street-Harassment campaigns and authoritarian neoliberalism in Cairo', Dr Wynne-Hughes looks at the Anti-Street Harassment movement as a set of everyday (in)security practitioners using the particular example of HarassMap. In the fight against Street Harassment, NGOs such as HarassMap, have become increasingly important as states have either used harassment as a political tool or have simply not engaged with it as an issue.
Founded in late 2010, HarassMap is an NGO that seeks to eradicate street harassment in Egypt. At this time there was growing concern about sexual harassment and sexual violence being used by groups of various political affiliations as a political tool to delegitimise other groups or to discourage female participation in political protest movements. As an organisation, HarassMap has undergone a sizeable evolution since 2010, when it was a predominately online platform mapping incidents and reports of harassment. Today, it almost exclusively engages in partnerships with companies, including the likes of Uber, to create harassment-free zones. According to Dr Wynne-Hughes' research, this evolution is not just a consequence of new objectives and personnel inside the organisation, but also it is related to the organisation's need to evolve to the everchanging political, economic and security environment in Egypt.
For Dr Wynne-Hughes, who emphasises the need to deconstruct the illusionary interdisciplinary boundaries between security studies and political economy (http://ppesydney.net/beyond-binaries-feminist-secureconomy/), it is necessary to situate the activities of groups such as HarassMap within the current Egyptian context; one that she defines as authoritarian neoliberalism. Authoritarian neoliberalism is a term being used by International Relations scholars that seek to engage with the increasingly illiberal and disciplinarian nature of states within the context of neoliberalism, so often conceptualised as involving the retreat of the state. Such authors argue that contemporary neoliberalism reinforces and relies upon 1) coercive state practices that discipline and criminalise oppositional social forces and 2) the judicial and administrative state apparatuses which limit the avenues in which neoliberal policies can be challenged.
Therefore, what this context of authoritarian neoliberalism means for NGOs including groups like HarassMap, is that they must adapt their strategies and realistic aims to these ever more restrictive administrative structures and an increasingly repressive environment for social movements. In this article, Dr. Wynne-Hughes engages with NGOs as non-state actors that can reinforce or challenge authoritarian neoliberalism. Equally, she wishes to demonstrate how authoritarian neoliberalism can create opportunities for groups such as HarassMap but also can impose massive limitations on their strategies, aims and objectives. 
Since 2015 in Egypt, for example, there has been a crackdown on groups that do not have formal permits to perform street outreach programs. NGOs, such as HarassMap, have been forced to formally register as NGOs or face potential arrest or prosecution as illegal groups. Since having registered as an NGO in 2016, HarassMap has been obliged to apply to the ministry for the interior for formal permits to carry out their programs. In the context of a broader crackdown on the activities of civil society groups in Egypt, HarassMap has found its street outreach activities more and more limited. This led HarassMap to change its tactics. An example of this is the Safe Areas Unit that tries to establish zero-tolerance policies in 'Safe Areas' (mainly small businesses), 'Safe Schools/Universities' and 'Safe Corporates'.
For Dr. Wynne-Hughes, the development of new strategies like the 'Safe Areas' demonstrates the way in which HarassMap's activities have had to adapt to the environment of authoritarian neoliberalism in which it is functioning. The shift towards a model in which businesses are buying into the 'Safe Areas' represents a reproduction of the state's neoliberal rationalities by the organisation itself. HarassMap seems to be prioritising property ownership and business development, using branding, professionalisation and entrepreneurship to make these projects work, replacing their previous tactic of changing people's perceptions and gender awareness. Despite the organisation's representatives stating they wish to end street harassment for everyone, everywhere, the shift in focus towards businesses clearly has the unfortunate consequence of providing security to middle-class consumers whilst moving away from more working-class Egyptian social environments. 
The entire ISRU agreed that Dr Elisa Wynne-Hughes' empirical case study was fascinating and that it clearly demonstrated the pertinence of authoritarian neoliberalism as a concept within the contemporary Egyptian social, political and security context. Following the ISRU Work-In-Progress Seminar, Dr Wynne-Hughes was kind enough to sit down with me to discuss this paper and her research more generally.
Rosa:
One of the really interesting things about this paper is how you frame street harassment as a security issue. However, it does seem to move away from the concept of security traditionally associated with the discipline. So, how do you respond to those who would reject street sexual harassment as a security issue?
Elisa:
This is one of the questions that I face a lot when talking about my research. For traditional state-centric conceptions of the disciplines of security studies and international relations, street sexual harassment does not really seem to fit into the narrow definition of security threats. I have spent a long time trying to move beyond this view of security threats as defined as existential threats to the nation-state or national security. Instead, I seek to shed light on the way in which security is defined in the everyday. This is something I looked at in previous research on the politics of tourism in Egypt, and it is something I have continued to do in this project.
Equally, one of the main reasons I engage with street harassment as a security issue is because many of the groups fighting street harassment frame it as such. There seems to be an implicit choice among many of these anti-harassment groups, which operate transnationally, to situate street harassment as a security rather than a cultural or social issue. For these groups, the aim is to provide security through governance and, therefore, reshape social realities.
Rosa:
In the paper you engage with some fascinating empirical research you have conducted with a particular group fighting street sexual harassment in Egypt. How did this relationship with HarassMap come about?
Elisa:
I first met members of HarassMap in April 2014 when I conducted interviews with members of six projects in Cairo to stop street harassment. This was part of Bristol-based ESRC-funded research project entitled 'Transforming Insecurity through Nonviolent Grassroots Networks'. This project studied how transnational grassroots projects network with each other. At this time there was a clear attempt by many of these groups in Cairo to securitise street harassment and sexual violence, like the mob attacks happening during protests at the time, but groups were carrying out their own security rather than appealing to the state to protect them. What struck me about HarassMap, at this time, was that they were clearly avoiding securitising street harassment. Instead, they were working through governance strategies that function outside of the state and security apparatus to alter ideas and behaviours in order to produce new social realities. However, one of the things that is so interesting about studying an organisation over a period of time is that we can see an evolution in their strategies and objectives. As I show in the article, the change in HarassMap's activities towards a more commercially focused model, has changed the social makeup of the organisation's personnel and the groups with whom it interacts.
Rosa:
You just mentioned how you conducted interviews over several years, with different and new members of staff and throughout periods in which the organisation has seemed to have radically shifted its focus and strategies. What did you learn from this? How do you think this enriches your research project?
Elisa:
I think it is really important to understand that an organisation like HarassMap is not static. They change and evolve in relation to the changing political/social and economic environment in which they are operating but also due to changes in personnel and priorities over time. There has been quite a lot of academic research on HarassMap as an organisation. This research has been critical of Harassmap's online mapping plaform for example. Yet, some of this research has been conducted without researchers speaking to the organisation itself. One of the benefits of having conducted interviews with different figures in the organisation over several different years is that they have been able to give me insight into why they have decided to move in certain directions and move away from others. It is really important to be able to hear from the people involved in the organisation itself to understand the constraints they are under in different contexts.
Rosa:
Thank you so much for agreeing to present at the ISRU Work-In-Progress seminar and for taking the time to discuss your research with me.