Managing Biodiversity Beyond National Jurisdiction in Changing Arctic'  – Dr Richard Caddell
7 November 2018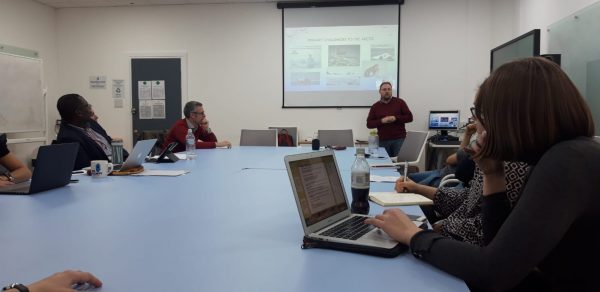 'Managing Biodiversity Beyond National Jurisdiction in Changing Arctic'
ISRU Work In Progress Seminar 24.20.2018 – Dr Richard Caddell
 On the 24th of October 2018 the ISRU met in the first Work in Progress Seminar of the 2018/2019 academic year. Dr Richard Caddell presented his co-authored Work In Progress paper 'Managing Biodiversity Beyond National Jurisdiction In Changing Arctic'. Dr Edwin Egede served as discussant.  
Dr Richard Caddell is a Lecturer in Law at Cardiff University whose primary interests lie in the law of the sea and international environmental law, with a particular emphasis on fisheries governance, marine mammal protection and biodiversity conservation, marine environmental regulation and Polar law. This paper was co-authored with Timo Koivurova, an internationally renowned expert of International Law in the Antarctic and Arctic region, based in the Arctic Centre at the University of Lapland.
This research examines the implications of the prospective Internationally Legally Binding Instrument (ILBI) for the management of Marine Biological Diversity in Areas Beyond National Jurisdiction (BBNJ), currently being negotiated by the UN, on potential future regulatory measures by regional governance structures. Dr Caddell and Professor Koivurova, in this research, look at the areas of the Central Arctic Ocean, some 2.8 million square kilometers, that are beyond national jurisdiction. With retreating ice caused by global warming, these areas are assuming greater geostrategic and industrial interest given the commercial and industrial opportunities they could hold.
Dr Caddell and Professor Koivurova explore the challenge of managing biodiversity in Areas Beyond National jurisdiction with specific focus on these Arctic waters. Although the exploitation of these waters and the riches their biodiversity represents remains at a preliminary stage, many have highlighted the potential opportunity of a prospective new regional treaty in order to establish preemptive protection and supervision of these areas. However, Caddell and Koivurova argue that the present legal and institutional structures for the Arctic provide a sturdy framework for the implementation of the key features of the ILBI, assuming that a workable and effective instrument can be brokered in these negotiations. They also suggest that the ILBI framework could provide a platform upon which structures of Arctic governance can build upon its current cooperative arrangements for the regulation and protection of these ecosystems. Therefore, they conclude that a new regional treaty, although enciting, may not actually be necessary.
The ISRU agreed that Dr Richard Caddell's paper was exceptionally interesting, and that despite being broadly situated in the study of International Law it embodied the way in which International Politics shapes International Law-making. After the ISRU WIP Seminar I sat down with Dr Richard Caddell to discuss his research, the paper, polar law and politics more generally.
 Rosa:
 Thank you so much for the presentation of your paper it was so interesting! I wanted to ask a little about the paper itself. One thing that struck me when I was reading it, was how short the paper was compared to many of the other papers we discuss at ISRU
Dr Caddell:
 Yes, although this was due to the unique requirements of the forum in which the paper appeared. It was a contribution to a special issue of AJIL Unboundon Governing High Seas Biodiversity by the American Society of International Law, to which Timo and I were invited to contribute an essay on the Arctic dimensions of these developments. The aims of the AJIL Unbound symposia are to provide a very precise and succinct but rigorous consideration of a particular topic. That challenges us to convey a lot of information in a truncated word count, which is an important skill that often gets forgotten as legal papers now have a tendency to be longer and longer!  
Rosa:
 So obviously you've come to the ISRU with this paper because you want to re-work it and I imagine do something with it? What is the next step for you in terms of this paper but also your research more generally
Dr Richard Caddell:
 Originally the paper was to a very specific brief, so we would like to build on these ideas and explore these regulatory avenues further, although we maintain that the BBNJ process will be most sucessful where it works symbiotically with regional frameworks. To this end, we argue that the Polar regions would seem to be among those regions best equipped to advance the opportunities afforded by the prospective BBNJ framework.
Rosa:
 I see. So here we are sitting in sunny Cardiff but this research interest in the polar regions is not something new for you, where does this come from? And how did this collaborative relationship with Professor Timo Koivuova take shape.
Dr Richard Caddell:
 I have always had an interest in International Law in the Polar regions. I wrote my PhD on regulation of whales, dolphins and porpoises, which involved also looking at the role of particular Polar institutions, given the distribution of these species and the areas in which they are hunted. Since then, I have had an opportunity to work extensively with other scholars and institutions of the Arctic on marine issues affecting Polar waters. When I started back in 2001, there was relatively little attention on the Arctic – most Polar scholarship looked at the Antarctic, given that governance structures have been in place for many years there – but over the last ten years the Arctic has become of immense geopolitical importance which has coincided with an explosion in Polar scholarship in the social sciences. Whereas before it was quite a niche issue, it's now cool to be an Arctic specialist (if you'll excuse the dreadful pun!). I've been fortunate to work with Timo for many years on allied issues – we're both environmental and marine specialists – and there is now a very buoyant community of Arctic legal researchers, including a specific group on Polar Law, which continues to expand annually. It's also interesting to see that there are many representatives from both Polar and non-Polar states.
Rosa:
 It seems that in recent years there has been an almost scramble for influence or a seat at the table in the Arctic. What do you think about this?
Dr Richard Caddell:
 I think this article really feeds into the debate around the increasing amount of actors trying to get a seat at the table in terms of Arctic affairs. What you tend to see with many of these actors is a very clear commercial and industrial interest, with environmental regulatory arguably rather less prominent in their thinking. A number of non-Arctic States – including many that might be less obvious participants in the region – have developed national Arctic Strategies in recent years. Some of these claims are based on commercial opportunities (or are at least motived by a desire to keep their commercial options open in these waters), but others are more intriguing and based on prospective scientific input. For instance, Switzerland has marketed itself as the "Vertical Arctic Nation" given its long-standing expertise in glaciology, and many States with discrete areas of ice-coverage have interesting transferable skills in a Polar setting.
Rosa:
 What are the main concerns to Arctic governance posed by this scramble for influence in the Arctic?
Dr Richard Caddell:
 With the retreating ice, the key issues here concern the use of waters that have long precluded shipping and other industrial activities. The main concerns are raised by this expanding industrial footprint in the High North and our ability to address a pollution incident or nautical disaster in such remote waters – as well as tensions over whether the Arctic should be preserved as a pristine global wilderness or whether it should be exploited. Ultimately, while there are many individual thematic concerns, many are wrapped up in the ongoing question of who should bear primary responsibility for these (largely international) waters, and the role and interests of countries from outside the region in this respect.
Rosa:
 The Trump administration has been overtly withdrawing from many environmental commitments, is this the case with regard to the management of biodiversity questions in the Arctic? What questions does this pose to the process taking into account the central role of the USA in this region?
Dr Richard Caddell:
 It is a major change. The USA is one of the members of the Arctic Council with national territory within the Arctic region. The previous administration was very cooperative with the Arctic Council and, towards the end of the Obama institution, John Kerry was extremely prominent in both Arctic and Antarctic affairs. But the new administration has placed a far greater emphasis on commercial and strategic interests with regard to this region,. It's worrying to note that the Arctic was not mentioned at all in the most recent pronouncement by the Trump administration on its oceans policy. Moreover, the current administration is hostile to climate science, which is the pre-eminent concern of the Polar regions. There is a terrific opportunity to undertake pre-emptive conservation work in these waters, since climate models can predict with considerable accuracy the broad ecological trends of the coming decades. Unfortunately, however, this particular administration has little interest in promoting the strong environmental outlook needed for this sensitive ecosystem.
Rosa:
Thank you so much for taking the time to present your work at the ISRU WIP seminar and share your ongoing research project, and especially for taking the time to sit down with me.
Dr Richard Caddell :
You're welcome! It was my pleasure.