Guest Speaker Catherine Eschle. Theorising Feminist Organizing in and against Neoliberalism: Beyond Co-optation and Resistance?
23 May 2018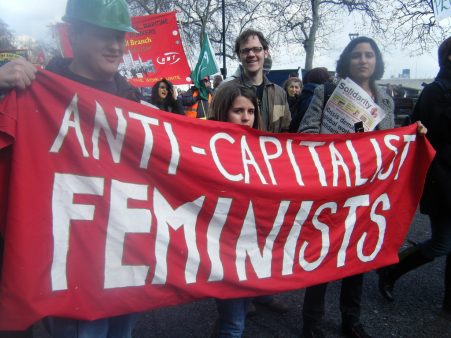 Work In Progress Seminar Series 02.05.2018
On 2 May, the ISRU welcomed Guest Speaker Dr Catherine Eschle as part of the Work In Progress Seminar Series. Catherine presented her paper, Theorising Feminist Organizing in and against Neoliberalism: Beyond Co-optation and Resistance? Dr Eschle is a senior lecturer at the University of Strathclyde, Glasgow. She received her PhD from the University of Sussex and completed a Masters Degree in International Relations at the London School of Economics. Her research interests centre on social movements, particularly feminist theory and practices and latterly peace movement politics. The paper presented at Cardiff was co-written by Dr Bice Maiguashca. Dr Maiguashca is a senior lecturer at the University of Exeter. 
This paper will appear in the inaugural issue of the European Journal of Politics and Gender, as a literature review of contemporary academic debates about feminism organising in and against neoliberalism. Eschle and Maiguashca claim current scholarship is structured around three narratives; a strong co-optation thesis, a more nuanced co-optation discourse and a smaller counter-narrative of resistance. They argue that a major problem with this literature is its tendency to construct a dichotomy between co-optation and resistance, underpinned by several different binaries such as 'good girls' vs 'bad girls', neoliberalism and feminism, and institutional and extra-institutional movements. 
After the seminar our ISRU Research Assistant, Rosa Maryon, sat down with Dr Eschle to ask her about her longstanding collaboration with Dr Maiguashca, this article and their broader research projects past and present. 
Rosa: 
Would you be able to talk to us about how this article fits into the broader research project ?
Dr Eschle:
This article is part of larger project looking at the changing ways in which neoliberalism is both the context and the target of global feminism. Several years ago, Bice and I worked together on a project on what we now realise are rather similar themes. We saw how literature on the anti-globalisation or global justice movement obscured feminism and gender, and sought to correct that in an empirical study of what we called 'feminist anti-globalisation activism'. That was published as our 2010 book Making Feminist Sense of the Global Justice Movement. There is quite strong continuity with that book and what we have been doing more recently. It was the growing acceleration and intensification of neoliberalism in the post-2008 context, and the growing literature on feminism being undone, remade and co-opted, that led to this current project. The global justice movement is no longer a political force or object of analysis, but that doesn't mean organising – including feminist organising – against neoliberalism has gone away. 
Rosa: 
It sounds like you and Bice have quite a long standing collaborative relationship? 
Dr Eschle:
We were actually at the LSE together when I was a Masters student and Bice was doing her PhD, but we met again at the International Studies Association annual conference a few years after. It was in the wake of the so-called Battle of Seattle and we were talking about it and said, 'somebody needs to do a feminist account of this'. And then we decided to do it ourselves ! We initially produced an edited book, bringing together different critical International Relations theoretical perspectives on 'anti-globalisation' activism. (At that time people spoke of the anti-globalisation movement but in Anglophone contexts the term 'global justice movement' gradually became more popular). We then wrote our more sustained feminist investigation. In a 2014 article in Political Studies, we drew on that book research to write a critique of the strong co-optation thesis. So yes, we have been working on these themes for a while.
Rosa: 
You mentioned how this paper is purely theoretical at this time, are there any plans to conduct some empirical research at some stage? 
Dr Eschle:
One of the things I am considering is a case study of feminist movements in Glasgow.  Since researching for our 2010 book in four different countries, I've become more localised in my empirical interests. I am currently finishing a project on protest camps in Scotland. Maybe in looking at the feminist movement in Glasgow we could gain insight into how activists navigate the challenges of neoliberalism in this one context, and see in what ways and to what extent the dichotomy between cooptation and resistance might be disrupted in practice.
It is a fascinating context because of the multi-levels of governance at play in Glasgow; with the Conservative government in the UK, the Scottish devolved government, which proclaims itself resistant to the extremes of British government neoliberalism (although its anti-neoliberal credentials are contested), and then Glasgow City Council which has been seen over the years as an examplar of neoliberal city governance.
Rosa: 
Are there any other ideas as to where you see this current strand of research going?
Dr Eschle:
One of the things we potentially want to do is an edited volume, focusing on how to move beyond the co-optation/resistance dichotomy in the theorisation of social movements and collective action more generally, not just in feminist movements. The aim is to speak to a wider academic audience than just those working on feminism, and to parallel debates in the theory and practice of queer, environmental and anti-racist politics, and the like. 
I am also keen to develop a more holistic empirical account of contemporary feminist activism across the globe, bringing research on cooptation and resistance together, whereas Bice's research interests lie more in situating individual subjectivities within these discussions about feminism and neoliberalism. 
Rosa:
Thank you so much for taking the time to visit us in Cardiff and share your ongoing research project, and especially for taking the time to sit down with me.
Dr Eschle:
You're welcome! It was my pleasure.