'Africa Needs Many Lawyers Trained for the Need of their Peoples' by Professor John Harrington and Professor Ambreena Manji published in the American Journal of Legal History
14 May 2019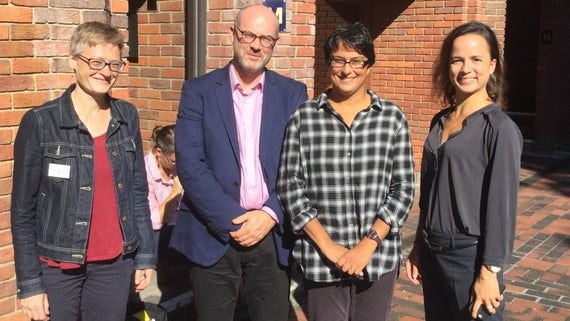 In 2016, Professor John Harrington and Professor Ambreena Manji presented at the ISRU's Work-In-Progress seminar as part of the development stage for their article entitled ''Africa Needs Many Lawyers Trained for the Need of their Peoples: Struggles over Legal Education in Kwame Nkrumah's Ghana'. This article has recently been published in the American Journal of Legal History. The article can be accessed here.
The ISRU would like to Congratulate Professor John Harrington and Professor Ambreena Manji on this achievement as well as their as well their continued excellence in ground breaking research. The collaborative and interdisciplinary nature of the research environment here at Cardiff is one of the things we at the ISRU pride ourselves on being part of. 
Both Professor Harrington and Professor Manji are based in the School of Law and Politics here at Cardiff University. Professor Ambreena Manji is a Professor of Land Law and Development in the School of Law and Politics at Cardiff University. Prior to joining Cardiff University, Professor Manji was Director of the British Academy's British Institute in Eastern Africa based in Nairobi. Professor Manji is currently President of the African Studies Association UK. Professor Harrington is a Professor of Global Health Law. Before arriving in Cardiff, Professor Harrington worked as a Professor of Law at the University of Liverpool and a lecturer at Warwick University, and the Free University of Berlin. Professor Harrington has also worked as a visiting scholar in Melbourne, Florence, Cape Town, Berlin and Nairobi. 
Professors Harrington and Manji are the co-founding directors of the Cardiff University Centre for Law and Global Justice. The Centre was established in 2016 and is concerned with questions concerning law and development and global justice. The Centre is home to a Transnational Pro-Bono Law Clinic working with human rights law firms and NGOs in the UK, India and East Africa. It hosts an annual series of conferences and lectures with leading international scholars. The Centre has a particular focus on the global south and informed by post and anti-colonial perspectives, the Centre fosters high quality research in law, justice and globalisation.
The abstract for their latest article can be found below:
In the late 1950s and early 1960s, the setting up of university law schools in many African nations led to often bitter battles over the purpose of legal education. The stakes in these struggles were high. Deliberately neglected under colonial rule, legal ed- ucation was an important focus for the leaders of new states, including Kwame Nkrumah, first President of Ghana. It was also a significant focus for expatriate British scholars and American foundations, seeking to shape the development of new universi- ties in Africa. Disputes centred on whether training would have a wholly academic ba- sis, and be taught exclusively in the University of Ghana, or be provided in addition through a dedicated law school with a more practical ethos. This debate became entangled in a wider confrontation over academic freedom between Nkrumah's increasing authoritarian government and the university, with its significant body of ex- patriate lecturers, and indeed in wider political and class struggles in Ghana as a whole. Tensions came to a head in the period between 1962 and 1964 when the American Dean of Law was deported along with other staff on the foot of allegations of their se- ditious intent. In this paper we document these complex struggles, identifying the broader political stakes within them, picking out the main, rival philosophies of legal education which animated them, and relating all of these to the broader historical con- juncture of decolonisation. Drawing on a review of archival materials from the time, published histories and memoirs, as well as interviews, we aim to show that debates.
To find out more about the Centre of Law and Global Justice you can visit their blog or follow them on twitter