The 5 Best Places to Stay when visiting Cardiff
24 September 2021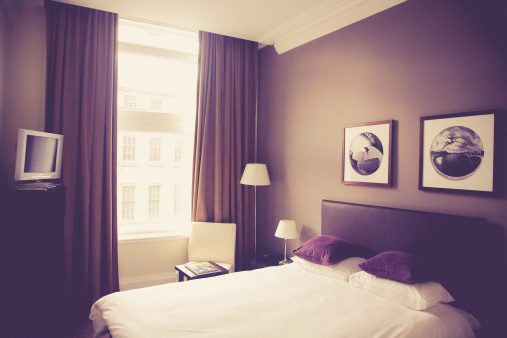 Whether it's for a Cardiff University open day or it's just to enjoy the nightlife, Cardiff is filled with many unique hotels and dorms where you can stay. From the extravagant Hilton right opposite Cardiff Castle to the luxurious suites that can be found in the voco St Davids hotel, no matter where you are you're always right in amongst the action! However, as much as the hustle and bustle of the city can be a thrilling experience for anyone, sometimes it can be just as fun to wind down after an action-packed day in the Welsh Capital. Whichever your preference, here are 5 places where you can stay when visiting Cardiff, all with their quirky traits!
Hilton Cardiff
If it's glitz and glamour you're after, then look no further from the extraordinary Hilton Hotel right in the centre of the city. This place is perfect for the adventurous as they can access pretty much everything the city has to offer from the historic Cardiff Castle to the St Davids shopping centre where you can splash some cash on your favourite goodies! The Hilton is also a stone's throw away from both the Principality Stadium and the Motorpoint Arena meaning that it can be a great stop-off zone for seeing some of your best-loved shows and concerts! This is also a beneficial hotel to settle at if you're afraid of heights as this doesn't have many floors meaning that the rooms are not so high up. That way you won't have to worry about the fear of looking down when gazing in awe at the glorious city skyline from your room window.
Travelodge Cardiff Central Queen Street
Let's be honest, you're a student so you're likely to be on a budget. If that's the case then this cheap but cosy hotel will suit you down to the ground. Now I mean that in more ways than one as this hotel is also not a high-rise building meaning that you're close to the ground and near to where you need to go in Cardiff. There are many takeaways as well as pubs and restaurants nearby so whether you'd rather eat in or out, this place perfectly fits the bill! Also, if you do plan on slurping down booze at one of the many nearby pubs then you won't have far to walk back home after a heavy night which can be extremely useful! This Travelodge is also rather hidden and is tucked away behind the main street of Queen Street meaning that you can gain a little peace and quiet which is very hard to find in a city like Cardiff, trust me!
voco St David's Cardiff
Who wouldn't want to wake up to a stunning view of all of Cardiff Bay as the sun rises above the Wales Millenium Centre? Well that's what you get when you book one of the deluxe suites at this hotel! This piece of paradise is pinpointed away from the city centre meaning that this is the perfect place to stop if you're after a relaxing weekend away. The waterfront is a beautiful sight to behold when walking to Cardiff Bay. And as for Cardiff Bay itself? Well, you won't believe what's on offer here! Pubs, bars, restaurants, clubs, museums, a plaza and even a Norwegian Church which has a vivid arts centre inside! However, even if that's not enough for you, don't worry! Cardiff is an extremely accessible place with lots of forms of public transport to get you to the city centre from the bay.
The Angel Hotel
I can see why they call this the Angel Hotel as this hotel makes you feel like you're in heaven! Sandwiched between Cardiff Castle and the Principality Stadium, this place will make you feel like an A-lister as you stroll into the grand hall before you check-in. The best part about this hotel is the reputable Castells restaurant located within the hotel. With fancy dishes on the menu from Baked Salmon Fillet to Roasted Beetroot and Couscous salad, you really will get the chance to eat in style. You can even have afternoon tea there whilst staring out at the stunning architecture of Cardiff Castle!
The Future Inn
Want to be within walking distance to the magnificent promenade of Cardiff Bay? Then look no further than the Future Inn which is right next to the Red Dragon Centre where you can dine, shop or even watch a film at the Odeon cinema! There's also no better way to kickstart your visit than going to the bowling alley to land some strikes! And even if you do land a gutter ball you definitely won't be gutted with what's on offer at both Cardiff Bay and the Red Dragon Centre! With seasonal carnivals on at the tip of the bay as well as being able to witness the set for the much-loved BBC series Casualty, Cardiff Bay contains just as much action-packed fun as the city centre!
Obviously different hotels suit different people and I'm sure each and everyone one of you will have your own personal preferences. Do you have a favourite hotel in Cardiff? Let me know in the comment section below. I'd be fascinated to hear! But, just remember, no matter where you stay, you will never feel out of place in Cardiff. Cardiff is a city for one and all!