The 5 Best Bars to visit in Cardiff Bay
22 May 2022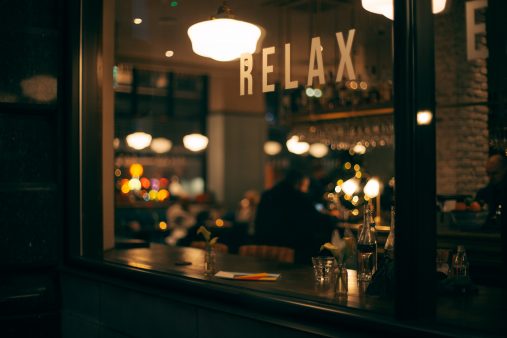 There are lots of fun activities you can do at the Bay like going for a run or visiting the glorious wetlands. However, I think we can all agree that the best form of fun to have at the Bay is visiting one of the many bars and restaurants that the area has to offer. There is a particular emphasis on the bars as they are the places where you can get some very quirky and tasty alcoholic and (for the more sensible people) non-alcoholic beverages. And if you choose wisely, you will be able to find somewhere where you can drink and take in the gorgeous views of the waterfront whilst basking in the warm Welsh weather. Here's a guide to help you make those wise choices.
The Dock Bar & Kitchen
You know those views I was talking about just now? Well, this is the prime and ideal spot to look out onto those views! With multiple floors, this means you can be perched up when staring at the calm waters of Cardiff Bay meaning a better view for everyone! This bar especially is perfect if you want to eat to your heart's content whilst drinking, as this place also operates as a restaurant meaning there are the best food and drinks on offer. A particular favourite of mine is the Flossy Bop cocktail that they make. Now, there's a reason it is called the Flossy Bop, I'll let you find out why when you go.
The Cosy Club
This name feels very relevant when you first take a seat in this hidden paradise! From all of the abstract paintings and artwork that you can marvel at whilst waiting for your sumptuous drinks behind the bar, to the extravagant sofas that you can sit in whilst sipping on your vivid cocktail, there are so many intriguing features that will enlighten your mood whilst drinking there. It is also located right underneath Mermaid Quay where there is a fresh abundance of shops to visit, or if you are brave enough, even more bars to explore!
Las Iguanas
If you want to catch those fresh summer and warm weather vibes, then this Spanish-themed bar is the place to tango! With a variety of ways to eat and drink there including being able to have a refreshing bottomless brunch, this is a well-known chain that can be found across the country meaning that all of the familiar food and drinks that you love will be there for you to collect and buy straight from the bar. And obviously, at a Spanish-themed restaurant, you are going to find lots of Spanish-themed food with a wide range of tacos, chillis and even poppadoms available for you to try. Getting the chilli would certainly spice up the evening!
VIP Piano Lounge
How cool does an ice bar sound (no pun intended)? A piano bar sounds pretty nifty too, doesn't it? Now just imagine what you would get if you combine the two. This is what the VIP Piano Lounge provides! You will most certainly be treated like a VIP here where guests are beckoned into a world of velvet-draped luxury. A champagne bar and piano lounge combine to create a glamorous experience where relaxation and fun will always be assured. Put it this way, if 7-foot chandeliers hanging from the ceiling do not scream luxury, then I don't know what does!
The Glee Club
Who could think of a better way to kick-start a night out than with a fine bit of comedy along with a drink in hand? Well, the Glee Club provides the perfect opportunity to do just that! It is an atmospheric comedy club that welcomes a strong mix of nationally-renowned comics and emerging stand-up talents. The 450-capacity auditorium is one of the best places for live comedy in Cardiff. Of course, it is different from drinking in a normal bar, but hey, different is good right? In Cardiff's home of stand-up comedy, you'll never be short of laughs and fun. You'll never be a long distance from the bay either ;-).