Student Village Interview
20 Medi 2020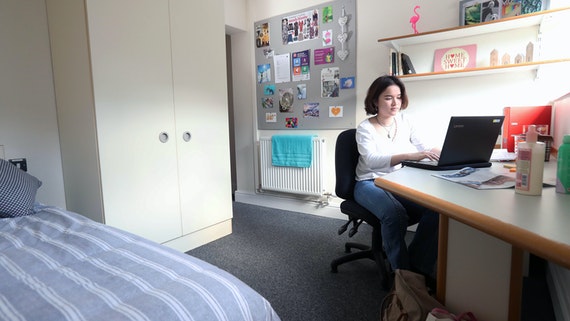 If university halls aren't for you, there is always the option to live in student houses. These are scattered around Roath and Cathays and are perfect for older students or couples. To find out more about what it's like living in one of these houses, I spoke to Inna.
What was your favourite thing about your halls and why?
I was lucky enough to be housed with 10 amazing people. We were all from different countries, spread across 3 continents. We all had different backgrounds and experiences, so getting to know each and every one was my favourite thing.
What was something you wish you had been told before you moved in?
That they did fire alarm checks every week. It's an applaudable safety practice, but the noise and disturbance can still surprise you every single week.
If you could pick accommodation again, where would you pick (not to be with friends, but singularly about the accommodation)?
If University Accommodation – Talybont Gate, but other than that, all the other private ones like West Wing, Eclipse, Zenith etc seem to be more value for money rather than a University accommodation.
Which shop did you mainly use?
Tesco & Lidl for big food shops (depending on where I was prior to shopping), Coop for emergencies and random store trips because it was the closest to our accommodation – literally across the street.
How did you socialise within the accommodation?
Since I was lucky to have such a warm & close house, we would normally have movie nights all together. We'd celebrate the holidays with each other, and we even travelled together. The kitchen was our hub, so to speak – since we did not have any common living areas aside from the kitchen.
How did you find sharing a bathroom if you did?
To be honest, I was in a floor wherein I shared a bathroom with mostly males and I was pleasantly surprised that they always kept it clean. I take it upon myself to clean common spaces mainly because I enjoy the comforts of having a clean living space, but I was lucky to have housemates who were the same.
What were three key points about the halls?
1) In all honesty, the house (structure wise) was not great – the soundproofing was terrible. So halls are not the best when it comes to actual structure of the building/house.
2) It's the best way to meet people, if you and the rest are willing enough to socialise and take the time to get to know the people you'll be living with.
3) Its convenient to book, especially for international students like me.
Could you describe the experience and overall vibe of these halls?
Overall, my experience was amazing because I had the best people I could possibly live with. I met my housemates a couple of weeks online before moving in, ironically one of them arrived the same day and time I did in Heathrow and we travelled together to Cardiff, and I'm even moving in again (post-halls) with one of them. Therefore, the overall experience was worthwhile and life changing – I won't change anything even if I were given the chance.
So, if you want to avoid student halls and live in a house, but still want university accommodation – the student village is perfect. They are very close to the Student union, the city center and Cathays.