How to Write a Winning Masters Application Letter for Journalism Courses
30 Gorffennaf 2021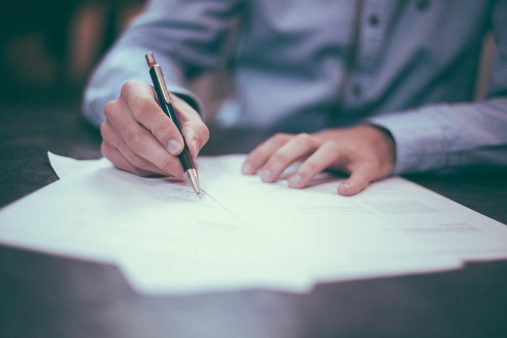 Have you found yourself at the all-important stage of putting in an application for that dream masters, but simply don't know where to start?
Then you've come to the right place.
Nailing the masters application letter is crucial, so you may as well get it right.
Here is how to write a winning letter for journalism-related masters courses at Cardiff University.
Show enthusiasm
The key ingredient for any application, ever. Demonstrate your enthusiasm for the course and journalism in general by perhaps referencing a journalist you look up to, a piece of work that has really grabbed you recently, or what your favourite publication is and why.
Previous work
Now it's time to really show-off. What kind of work have you done in the past that relates to the course? Do you have your own blog? Have you done work experience in a newsroom/for a magazine? Did you work for your university's student media publications? Have you freelanced before? Just get it all down, but make sure it relates to the course. Your experience doesn't directly have to be journalism-related, any part-time jobs you have had will all have given you invaluable transferable skills, but specify exactly what these are, and how they will aid you on the course.
Can you cope?
What the course director is essentially looking for (as I was told on my interview day) is that you can cope with the workload and demands of the masters. For this reason, you should be able to demonstrate how you have balanced different demands in the past, whether that be your course with a part-time job, volunteering, freelancing, etc. Really emphasise your organisation and time-keeping skills because trust me, you will need this once you get started.
Personality
One thing's for sure – we are not all robots. Yeah okay, you've got all the experience under the sun, organisational skills for days, but what really makes you tick? What is your niche? Make sure you talk about the things you're passionate about outside of work and academia. Most journalists have a niche and this is what makes them interesting writers. Do you love a particular sport? Movies? Travel? Music? Not everyone will find their niche straightaway, but the best way to find it is simply by looking at the things you love already. The course director will be much more interested in someone who shows passion for something (no matter how weird and wonderful) than someone that doesn't.
How can the course help?
Perhaps one of the most basic things but make sure you explain why exactly you want to study that course specifically, and how it will benefit you in your future career. What aspect of the course are you most eager to experience? Why Cardiff University? What do you already know about the university and masters? Here's a good opportunity to show you've done your research, and you're fully invested in studying here. If you have specific goals, for example, you want to be a lifestyle writer, an editor, a researcher – get it down. Its good to have ambitions and shows you are looking into the future.
Structure
In terms of the letter's format, your personal statement should follow an essay-like structure of an intro, middle, and conclusion. Have an eye-catching and grabbing opening line, then flow into the heart of your letter, and finish with a bang that summarises the crux of what you have just said. Of course, don't forget the basics like paragraphs, and spelling (spell-check, spell-check, spell-check). You could use sub-headings if you wish – similar to how I have set out this blog. Overall, the letter should be no more than a page (500 words long), and if you make a claim like "I'm a very organised person" – evidence it! What examples can you use that demonstrate this?
Good luck!!