How to time manage during clinical placement
31 Mawrth 2020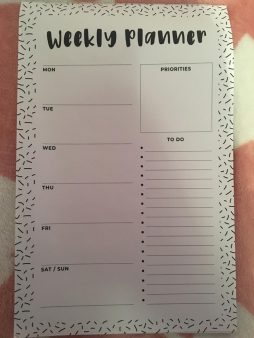 During my time at university, I have found time management really important – especially when on clinical placement. Whilst on placement, sometimes I have had university related work and placement related work to do. I have found time management a really good technique to use to enable me to complete university and placement work, socialise and relax.

To time manage whilst on placement I make a weekly timetable (electronically or on paper).
This allows me to make sure I:
Get up on time to get ready and eat my breakfast before attending placement
Leave the house on time to ensure I get to placement on time
Plan when to do my placement work and university work
Do social activities like tap dancing and meeting my friends
Do my food shop for the week
Do my washing for the week – there may be more washes that need doing whilst on placement
Cook my dinner – I like to cook all my food on a Sunday and freeze meals so I don't have to cook on a weekday
Go to bed at a reasonable time – placement is tiring so I find I need to go to bed at a reasonable time to make sure I am able to make the most of the next day on placement
Weekday timetable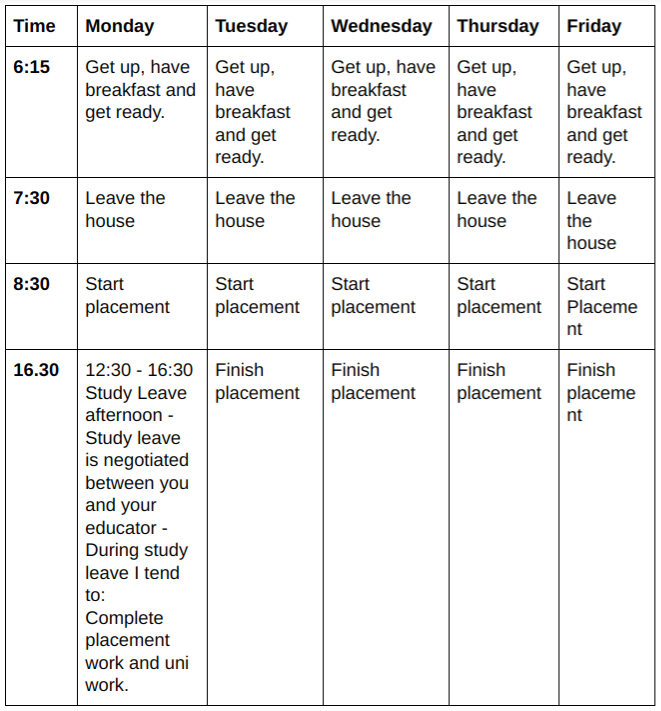 Weekend timetable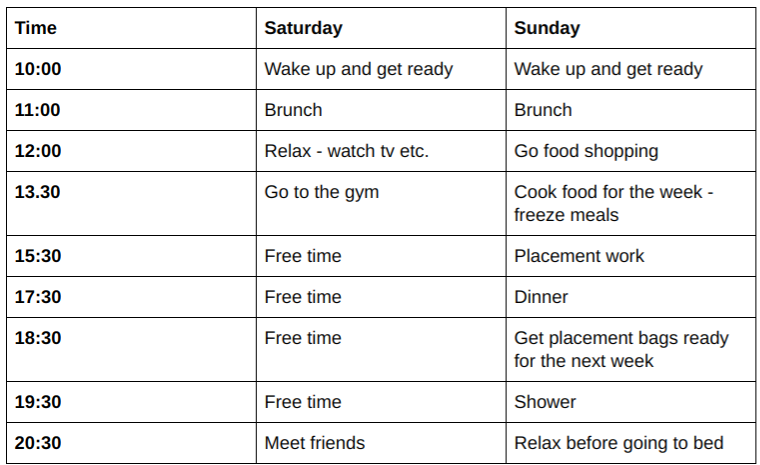 Above is an example of what my 'typical' weekday and weekend timetable may look like. To manage my time I also meal plan for the week and make a shopping list. From my experience, if I don't make a shopping list I spend longer in the supermarket and this then uses up my time. Wilko's have lots of meal planners, weekly planners, shopping lists and to do list pads. I complete a to do list every week to make sure I get everything done in a timely manner. From my student experience, I have enjoyed shopping in the Notepads, Pads and Organisers section at Wilko's.

Weekly Planner Pad

To enable me to time manage my time appropriately, I make sure I am organised. Being organised, allows me to not waste time throughout my week. I have lots of plastic wallets and folders which I sort my university work into different sections so this way it is easy for me to locate work. WHSmith have a document and wallets section online. In addition to this, WHSmith also have a filing and folders section.

From my experience, my bedrooms at university have had limited space, I have used desk tidies to put my folders and plastic wallets into. IKEA have a paper and media organisers section online.

Metal Desk Tidies

I hope this blog has been useful to give you an idea of how to manage your time whilst on clinical placement. Please feel free to message me using my UniBuddy account, if you have any questions regarding my experience at Cardiff University or my student experience of Cardiff the city itself.