Gordon Halls Interview
20 Medi 2020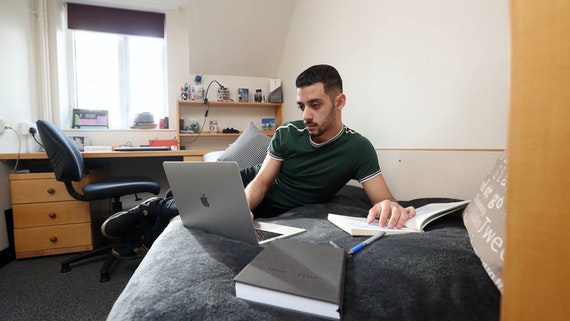 Gordon halls is very close to the city and the university buildings, it is particularly well suited location wise to mathematics, physics and astronomy students. To learn more about what it was like to live here in first year I interviewed Lydia.
What was your favourite thing about your halls and why?
My favourite thing was how close it was to the uni and town.
What was something you wish you had been told before you moved in?
I can't think of anything in particular!
If you could pick accommodation again, where would you pick (not to be with friends, but singularly about the accommodation)?
If I could pick again, I'd pick either taly court or taly south.
Which shop did you mainly use?
The shop we used was Sainsbury's in town.
How did you socialise within the accommodation?
It was quite a sociable accommodation with people from different floors always coming up to our kitchen and it was easy to move around and speak to new people who aren't in your flat. The big kitchen was also definitely a big focal point social wise as everyone could sit in there and play games like guitar hero or chat in a group of up to 20 odd people, meaning we could easily plan little events and things to do.
How did you find sharing a bathroom if you did?
My bathroom was en-suite but the floor above me was shared and I know that they found the toilets kept blocking but apart from that I don't think they had any issues. It was also easy for anyone in the accommodation to use those toilets.
What were three key points about the halls?
First key point has to be the fact that the kitchen has no windows, meaning it can get really warm in there. A second point is that there can be over 20 people per kitchen so not much cupboard or fridge space, even if it does mean it's sociable. A third is it being part catered, meaning you could go for dinner in the Queen's buildings every weekday, adding to the social atmosphere as you'd end up going with flat mates etc.
Could you describe the experience and overall vibe of these halls?
Over all the experience wasn't too bad, the state of the halls with the lack of windows was definitely a big problem as well as the number of people per kitchen but this was balanced out by the sociable nature of the halls though, with someone always being sat in the kitchen no matter what time of day it was meaning there was always a buzz whether it was people coming back from nights out or people who just couldn't sleep.
So, whether or not you are looking for a good location, a highly social space area or just the opportunity to meet lots of other people, Gordon halls may be for you.