An Insight into Quench
6 Awst 2020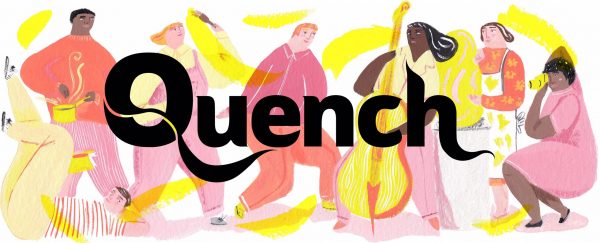 Quench is an award-winning student-based magazine, offering a comprehensive guide to Cardiff life and culture. Founded in 2007, Quench has collected six awards for best student magazine over the years and publishes five magazines a year.
The magazine has a multitude of sections: Features, Column, Culture, Film and Tv, Music, Literature, Fashion, Travel, Food and Spotlight.
Spotlight is a new section this year, focused on researched journalism. Each year the focus will change topics, this year the topic is Sex and Relationships.
The magazine gives contributors the opportunity to improve their writing skills and create a portfolio of work for their future career. Not only do contributors become part of a team and meet many new people, it also gives out free tickets to shows and theatre productions for review articles! If you join the new contributor's facebook group you will get the opportunity to write articles for the magazine. Sections publish the articles up for grabs on this page, allowing you to write for them in a flexible way, if you do not have the time to join the main team.
To get an insight into the workings of the magazine, I interviewed Jasmine Snow, this year's Editor-in-chief.
What was the most rewarding aspect of your experience on the team last year?
Last year, I was Editor-in-Chief of Cardiff University's mini-magazine, Q3. I had never been a part of Cardiff Student Media before, or anything else of a similar scale and I was so incredibly nervous to undertake the role. However, I constantly surprised myself throughout the year and it was really exciting to see what my team and I were able to create. Therefore, I think the most rewarding aspect of my experience on the team last year was the way in which it changed me and showed me I'm capable of a lot more if I'm willing to push myself out of my comfort zone.
What exactly does your role entail as Editor-in-Chief?
The role of Editor-in-Chief has a lot of responsibilities, on the one hand there is the admin side, which involves creating the calendar, ensuring everyone meets their deadlines, answering emails, solving problems and enforcing the student media code. However, there is also the creative side, which entails writing articles, designing pages, creating layouts, promoting content and organising socials. I'm surprised each and everyday in this role, so many different situations have arisen that I never thought I would have to face (for example, adapting to COVID-19), but it's all part of the fun.
What are you most looking forward to this year Working on Quench?
I'm looking forward to so many aspects of the coming year, but I'd say I'm most excited to meet and get to know the team. In a few short months, my Deputy Editor, Elly Savva has become a really close friend of mine. That's the beauty of something like Cardiff Student Media, due to the nature of the job, you're guaranteed to meet kind, passionate and eccentric people that support you but also challenge you. Another aspect of Quench I'm really looking forward to this year is being able to use the platform to amplify student voices and discuss important subjects. Elly and I have added a new section to the magazine, entitled 'Spotlight', which will contain longer, more researched pieces and their focus this year is sex and relationships. We're also planning to discuss the Black Lives Matter movement, environmental issues and the LGBTQ+ community, as well as possibly even dedicating entire issues to them, which we hope will help the Cardiff University student body feel better represented.
What is the social side of the magazine like?
The social side of the magazine is extensive, there are so many different groups of people to interact with such as the editorial team, design team, social media team, contributors and not to mention the other Cardiff Student Media platforms (Gair Rhydd, Xpress and CUTV). Quench, in particular, meet throughout the year for all different types of events. This year we're hoping to have a board game social, cinema trips and quiz nights alongside our alcoholic outings. On top of this, we also hold events for different holidays and even attend awards evenings every now and then.
What piece of advice would you give new students looking to get involved?
In my short time as Editor-in-Chief this year, I've realised one thing in particular, from the outside looking in, Cardiff Student Media can seem like an intimidating place. I remember in my first year, I was really passionate about journalism, but it took all of my confidence to merely approach the Quench stall to ask how to start contributing. Even in my second year, as a member of the team, I was often too shy to fully integrate myself into the team. However, only now as Editor-in-Chief do I realise how groundless my worries were, everyone I've met has been so incredibly welcoming. Not to mention the fact that the team changes every year, I'd say only 20% of our current team have been a part of Quench before and previous members almost always apply for new roles to try something different. Therefore, everyone is in the same boat, even in my role as Editor-in-Chief I'm constantly learning. Moreover, my advice is to do what I did and push yourself to join (even if it takes all the confidence you have). These last two years, I've learnt how to use Adobe Suite, hired an entire team and published three whole magazine issues. I never imagined myself where I am today, but I'm so immensely grateful to be here and I'll carry this experience with me for the rest of my life
So, whether or not you want to join the digital team, the editorial or become a contributor, Quench offers a brilliant opportunity to become part of a media team and gain invaluable experience!