All things UCAT!
12 Ebrill 2020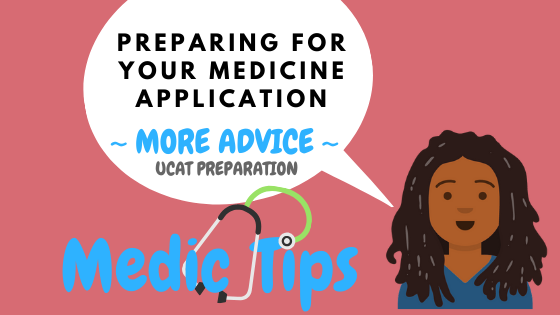 It is important that you know what admission test each medical school you apply to requires – for Cardiff, it is the UCAT (formerly known as the UKCAT). In this blog, I will share how I did my preparation and further tips. I hope it is useful!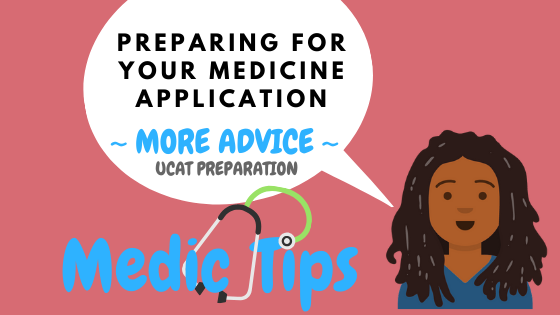 Like I mentioned previously, I ensured that I had completed my UCAT before sending off my UCAS application so that I could see if my UCAT score was competitive enough for the medical schools I was applying to. I did my UKCAT in mid August and started my prep in mid May -which looking back I embarrassingly announced on Facebook as well!
Honestly, if I suddenly had to retake the UCAT today, there would be no way I would get a high average, because personally I think it requires some brain training to get used to the style of questions!
So when should you start preparation?

Although I did say I started 3 months in advance, in reality, I did 2 months of preparation which was plenty of time. I am extremely grateful that I started when I did, because closer to my test date, my Nan had passed away and there was only space to push it back a few days after her funeral. A lot of people thought this would affect my score, but in the end I did not need to claim extenuating circumstances because honestly I surprised myself and did a lot better than I had done in my final mock test. I dedicate that to my Nan because she always encouraged me when she knew I wanted to be a doctor and I knew that she would want me to try as hard as I could, regardless of circumstance.

However, in mid May, I had no idea that this was going to happen. I actually chose to start earlier than usual because I wanted to get an understanding of the style of questions and test format before doing my A levels. This meant I had a plan on what to focus on after I had completed them, because I knew that I would not pay as much attention to prep when revising for 4 A Levels.
So what should you use to prepare?

First of all, before jumping the gun and buying materials (which is not completely necessary), you must read the official UCAT website thoroughly. It has information on each section of the test: the question types, how many questions, the timings as well as some useful practice tips, preparation videos and a prep plan.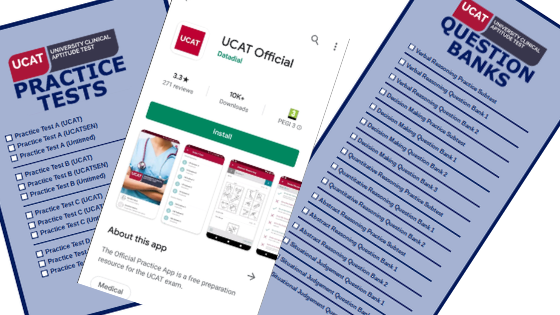 FURTHER RESOURCES
You'll have noticed that I bought a book, but I had mixed opinions about it:
PROS
CONS
– more practice questions with a range of difficulties
– brilliant indepth explanations and useful techniques suggested
– doesn't require WiFi! – could carry about when I needed it
– majority of questions are a LOT harder than the real thing
– have to flick back and forth to get answers
– requires you to manually time yourself once you get to that stage
For my situation with my Nan being in hospital near to her end stages, it proved to be very useful for me to keep up revision whilst we spent long shifts in the hospital checking on her, because we all know hospital WiFi is never good! However, the rest of my revision I used Medic Portal's question bank – they provided lots of free questions which I could monitor my progress with and by the end, my revision was mainly using this tool.
There are lots of other resources which will require you to pay for access, but (being a very big fan of bargains/ free stuff!), I always recommend to start off with free resources that organisations provide first and then you can make the commitment to pay for access for a certain length of time. Here are two more which are very popular as well:
---
So how do you prepare?

There is not a specific right way of preparing but I will share some tips that I picked up in my revision and advice given to me. I would also recommend checking out advice from top scoring candidates as well.

After reading all the official information, you will realise that it is a very time-pressured test and that's exactly the point it is meant to be that way! However, too often people will try to start timing themselves straightaway which is not useful at all. I can't remember my exact timeline but I've summarised how I developed my practising in schematic below: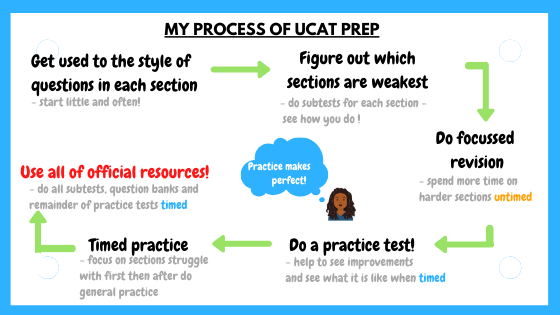 Initially, I did about 40 minutes a day. I spent a day on each section first then after I randomly chose 2 sections to do each day spent about 30 minutes on each. This was manageable for me to keep up during A level revision. I started off using mainly my book and then later started on Medic Portal.
Then, I did a timed subtest for each section – I knew I had lots more prep to go but I just wanted to know what my next step was for each section whether that would be starting to practise with time pressure or if I just needed more time to understand the questions. I recognised that I needed more focussed revision time.

At this point for me, in rank order from easier to harder – situational judgement –> decision making –> quantitative –> verbal –> abstract
Note my intentional use of "easier" and "harder" – I think if you get it in your head that one section is the easiest or the hardest – you either become complacent or stress out too much on one section
Once A Levels were out the way, did about 1.5 – 2 hours day – still doing 2 sections a day – I liked variety made it more interesting!
Before I went on to work on timed practice, I did a practice test:

Now the the rank order had changed at the top from easier to harder – situational judgement –> decision making –> abstract –> verbal –> quantitative
I realised that with the time pressure, I actually struggled the most with quantitative and my technique had improved so much with abstract that I found it a lot easier but wasn't fully secure. Verbal – honestly just needed practice with or without time I didn't like it one bit!
Then, I made sure I completely finished my book and did majority of medic portal questions all to time. Once I had done further focussed practice, I made sure I was doing a bit of everything every day.
Finally, I decided to save all the official resources to last and completed them all, saving one test til two days before the test (and then a medic portal one the day before). There's no magic to why I did that but I think it just made me feel better not dwelling on what I got wrong with an official mock test the day before!

However, I did start to use the app earlier on for commuting now and again, but the rest of the resources left til later. I think this really reinforced getting used to the official format of the test as well so there was no shock.
---
I hope that I gave you an insight into my approach UCAT prep, just to end I have 4 more tips:
Flag and move on!

Once you have read through all the official materials (just to stress again – do it!), you will notice that that there is a function for all the sections where you flag and then come back to it once you have done the rest of questions. I cannot stress how important this function is!

Once you start your preparation, you will know how much time you should be spending on each question. If you come across a long question, requiring more thought – this will be particularly the case for quantitative reasoning – do not waste time being stuck you need to maximise all the time answering everything you know that you can quickly and then come back to later stuff. Don't feel upset if you have to guess – it is the way of the time pressure!

I would get used to using this function in your preparation so that you don't stress out when you need to use it in your test.
Practise using the online calculator from the very start for quantitative reasoning!

I was very disappointed that I could not use my treasured Casio calculator for this test – it was so important that I used the online one in my revision. There are also some shortcuts that you should be aware of as well – you will waste less time in the exam if you are used to it!
Make a list of common/ uncommon patterns for abstract reasoning as you go along

I always thought abstract reasoning was hit and miss. Some days it was so obvious, some days I had no clue and even with the answer in front of me, it took a while to click! One thing that I found really useful was making notes of obscure ones (in my handy notebook)! I read this list before I did practice tests and also before my test on the day – having them fresh in my head helped me so much!
Read GMC good medical practice for situational judgement

I found situational judgement easier, because to be honest I thought a lot of it was common sense, but it was still important to practise as there were some questions that did make me think. I found that after reading the GMC good medical practice for doctors and also for medical students helped me a lot – in the end I got Band 1 🙂

You will need to read this as well for your personal statement and interviews so you might as well!
Please feel free to leave a comment or contact me via UniBuddy where I am more than happy to answer any other questions you have! I've added the links to the other related blogs on preparing for medicine application below as well: