5 Best Goodies to Bake whilst at Cardiff University
18 July 2022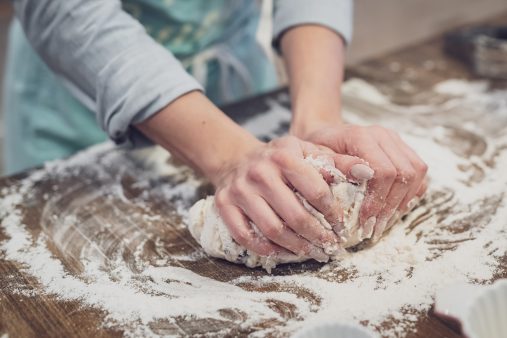 The life of a student often involves heavy consumption of ready-made hot meals and pizzas. It may be a bit basic and boring but it is considered easy and quick to prepare. However, there are many sumptuous treats that you can bake in an easy and quick manner too! The best way to break the ice at freshers? Make every one of your flatmates some glorious food to eat! Baked goods are also said to be a very effective hangover cure. So to save your flatmates and friends from being hungover and hangry, here are 5 simple yet scrumptious ideas for things to bake whilst at university!
Cheese Scones
Cheese scones are a classic, regardless of how you pronounce the word scones. All that matters to people are how good they taste! This recipe doesn't require a lot of ingredients so if you're baking on a budget then this is perfect for you! Also, all of the baking utensils that make baking so much fun are needed when cooking these, including a sieve as well as a rolling pin. The rolling pin is particularly useful as a weapon if someone dares even question your sublime baking ability, wait I'm joking, just use it for making the scones! Remember you want to be making friends at freshers, not enemies!
Chocolate Chip Cookies
Chocolate. The one food that is capable of both rotting your teeth and making you fat. I've got to stop making these sarky comments now or you guys won't have any more blogs to read. Anyway, you can't go wrong with chocolate. The best part is you have a choice of whether to use dark, milk or white chocolate for the cookies. Everybody loves a bit of variety so maybe you could mix it up and use each type for different cookies. You want to please everyone, eh? They're also smaller snacks so won't prove to be too filling for someone who's just looking to tide themselves over for a few hours.
Golden Syrup Flapjacks
Gold is my favourite colour. This is because it is the colour that has connotations of success and glory. Well, your friends will certainly see you as successful in baking after taking a bite at these bad boys! They're easy to make and are ready in half an hour. So if you're busy with your studies and are looking for a quick bite to eat, then these will suit you down to the ground! And for you vegan lovers out there, there are also many vegan-friendly recipes for flapjacks which taste just as amazing as the normal ones, if not better! Trust me, I'm a vegan myself so I should know!
Chocolate Brownies
As if chocolate chip cookies aren't enough, you can add chocolate brownies to that! Amongst some of the most traditional yet tasty goodies to bake, brownies are always filled with a squidgy yet delicious chocolate bake. One time I gave brownies to a brownie girl group which was quite surreal. Luckily, you don't have to make these goodies for them. Instead, you can share as many as you want with your flatmates. However, with these, in particular, I wouldn't blame you if you wanted to keep them all to yourself. You did put in the hard shift to bake them after all!
Shortbread
Sometimes the basic stuff can be the best stuff and this is certainly the case with shortbread! And it's certainly basic with the ingredients as well. There are only 4 key components to making the perfect shortbread: flour, butter, sugar and at least a tiny bit of effort! This easy-going dish to make will be a low-risk yet high-reward option to give to everyone you bake for. The lack of ingredients means you can also make a lot of them. The more the merrier as they say!
After you've decided what to bake and you've eaten your goodies, you may have to clean and empty the kitchen of any leftovers afterwards. But I'll tell you what most certainly won't be empty… your stomach!