If you're reading this as a medic offer holder, first of all, I'd like to say a massive congratulations! You've reached a major milestone in your journey of getting into medicine, so what's the next step? Choose your firm and insurance choices! For some, this may be easy to do (like it was for me choosing Cardiff), but for others, you may be in a dilemma. Don't worry! This is NOT a decision to be rushed – after all, this is where you will be for the next five or six years!
Firstly, some quick definitions!
Firm choice

= This means your first choice! So, in other words, the medical school that you REALLY want to go to!

If you have the one offer, then this will be your firm choice – no thought process required at all!

If you have two or more offers, there are some factors (discussed below) that you should weigh up which will help you to ensure that you are confident in your choice.
Insurance choice

= This means your second choice – in case you miss out on the first one. If you have one offer and then a backup course such as Medical Pharmacology – your backup option will be your insurance.

Again, if you have two or more offers, then you need to think smartly about this choice. If your choices have different entry requirements, it is usual to put the lower offer as an insurance choice. Also, if you do 4 A Levels, does that affect the requirement? For example, some medical schools may require A*AA but with the 4th A Level, they might offer AAAB.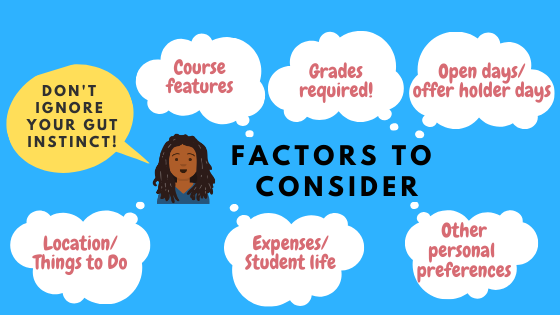 If you have read my previous blog (hint: please do!), you'll notice that some of the factors you considered when choosing medical schools to apply to, you should revisit when making your final decisions!
Hopefully, you will already have some notes from your initial research to look back on. You should already have a good idea of the course features for you to compare your choices and think carefully about what truly suits you and your learning style. Not only should your decision consider the course itself, but also in part, your gut instinct! You will have formed this if you have had the opportunity to go to open days or offer holder days, think back to your opinions of them: How did you feel? Could you see yourself living and studying there for the next five years? Could you afford to live there? Are there any societies that you would want to be a part of? What is there to do in the city?
If there is anything that you don't know about these factors, RESEARCH! You can do this by looking at the medical school webpages, comparison websites, finding out by asking on Facebook groups (the official Facebook groups are usually called Cardiff Medic Offer Holders & then the year of your entry) /forums such as The Student Room in order to ask questions to current students or even emailing/ phoning for any other queries that you are unsure of. This decision should be as well informed as possible!
The grades

Ultimately, to achieve your goal of entering medical school, you need to have the grades to get in, whether that may be A-Levels (or equivalent) or even a degree if you are graduate-entry . If you do A Levels for example, most medical schools require AAA as a minimum, but some are higher offers. Consider your capabilities, perhaps recent mock exams have opened your eyes to where you are at – do you have the self-confidence that you have a good chance of achieving those grades? If you are highly doubtful and anxious about achieving the required grades, I would suggest speaking with tutors/ teachers for their opinions and what you can do to maximise your chances. You would not be applying to medicine if you did not have the academic potential, so YOU CAN DO IT!
---
Finally, I thought I would share some more on why I chose Cardiff as my firm choice and what it has to offer! I can honestly say that it was the best decision to firm it and I am so excited for the opportunities that this course continually provides. I've summarised some of the key points into a schematic: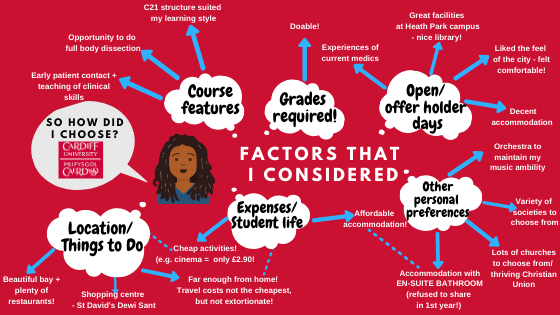 I think what really confirmed my decision was attending an offer holder day. The sessions were informative and gave me a greater insight into how case based learning worked. I was inspired by the medics guiding us in their blue scrubs and I could picture myself a few years down the line giving advice to prospective students. I had such a strong gut feeling that Cardiff was the place for me and… here I am!
I hope that I was able to give you more of an idea of how to approach choosing your firm and insurance choices. Just to reiterate: DO NOT RUSH your decision; however, please make sure you are aware of the deadline to choose them by! If you have not yet been to visit the universities, I would truly recommend going if you are able to get a feel of the city – check out the Cardiff open day page to see when the next one is! In the mean time, please feel free to leave a comment or contact me via UniBuddy where I am more than happy to answer any other questions you have!