Scientists welcome move to Translational Research Hub
26 September 2022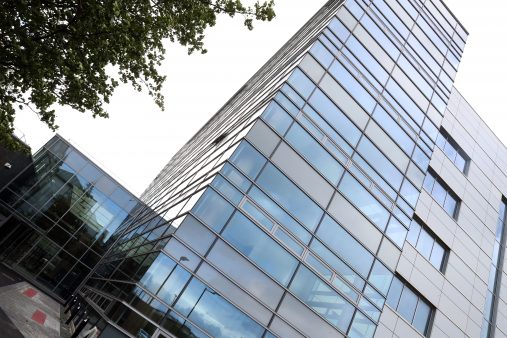 Cardiff University's multi-million-pound Translational Research Hub (TRH) opened its doors in July. As researchers and equipment move in, we hear from a selection of pioneering catalysis and compound semiconductor scientists about their future goals as the state-of-the-art facility comes online.   
Dr Angela D Sobiesierski, ICS Cleanroom Operations Director  
'Now the cleanroom is built and we have received the first of our new equipment purchases, the move seems very real and can't come soon enough, though there is still a lot to do. 
With over fifty pieces of equipment to install, hook up and run, it is going to be a busy time for the ICS team. The amazing new cleanroom is about five times bigger than our current home in Queen's Buildings. It is laid out exactly as we would wish and will make for more efficient and reliable processing in the future, unlike Queen's which has grown organically and is perhaps not arranged in the most efficient manner. 
New equipment will complement and extend our existing toolset, enabling us to deliver end-to-end processing under one roof and meet a wide range of user needs – from research groups working on tiles or small wafers to industrial organisations requiring full process development on wafers up to 200mm in diameter. 
We have also assembled a bigger cleanroom team. Currently, part of the team works in Queen's Building to keep processes running, whilst others are at the TRH receiving new equipment and preparing for the installation and hook-up phase.  
For me, it will be great to eventually have the whole ICS team all working together in the new cleanroom and see what they and the cleanroom users will be able to achieve. 
To summarise, we are all really excited at the prospect of working in a purpose-built facility that operates to our required specification and that will enable us to achieve our goals.' 
Professor Duncan Wass, Director, Cardiff Catalysis Institute 
'Moving home always brings a mixture of apprehension and excitement. And moving a research institute with capabilities and equipment as 
sophisticated as the Cardiff Catalysis Institute brings unique challenges.  
This is a complex operation that we have been planning for months and years – cutting-edge scientific equipment needs to be dismantled, moved and recommissioned so that our researchers can continue to obtain results with minimal disruption.  The fact that our microscopy and computational teams have already moved and are up and running augers well.  Of course, more than anything, we are looking forward to moving into the TRH and calling it home.  With the memories of the pandemic and lock-down still fresh, bringing the CCI together under one new roof will be particularly welcome – the building will strengthen the bonds of scientific community and, I have no doubt, lead to new collaborations and new research directions.   
Catalysis is a vitally important area of research, for example in the new technologies we need to reach Net Zero, and Cardiff has long been at the forefront of this field internationally.  Very soon we will occupy a building which matches in quality the quality of our research and in scale the scale of the problems we are solving.'
Rebecca Melen, Professor of Inorganic Chemistry, School of Chemistry
I am very excited to be moving with my research group into the TRH later this year. The move will be a great opportunity for myself and my group to work with other researchers in catalysis and in the institute for compound semiconductors. This will enable new collaborations to be fostered and will advance scientific research in these fields.   
Professor Khaled Elgaid, School of Engineering 
Knowledge empowerment is the key to delivering research output and a sustainable industry-based technology development strategy to meet the future demands in these challenging times. Establishing state-of-the-art research facilities is a crucial element in achieving this, providing the capabilities and the environment to excel.  
From my point view, the advanced ICS Cleanroom facilities within the TRH, fully equipped with state-of-the-art equipment for micro & nano engineering to develop advanced compound semiconductor technology under one roof. In addition, having adjacent labs in the same building to support advanced design and characterisation of integrated devices and circuits is a key advantage.  
I have been engaged in the development of these facilities since January 2018, including designing lab space and ICS cleanroom specifications, as well as advising on tooling needs. Now my research team and the wider research group is ready to advance further, developing technology to meet the demands of future electronic systems, which includes high-speed communications, radar and sensing, as well as targeting device and system power efficiency to reduce the carbon footprint of these systems. 
There are exciting times ahead, and I am really looking forward of being part of this massive transformation in research capability, working closely with national and international research teams in the compound semiconductor field. TRH is a unique UK capability offering world class facilities to transform novel concepts into world-competing technology outputs. 
Dr David Morgan, Surface Analysis Manager, Cardiff Catalysis Institute

The time has arrived, the CCI labs are ready, and we're primed to begin our move to the TRH. I have been excited about the new laboratories for some time: we can use them to expand not only our research, but also expand access to the characterisation suites, such as electron microscopy and photoelectron spectroscopy, to our colleagues in ICS and increase our industrial links. This will enable us to push our understanding in areas aligned with the ethos of the TRH – collaborative and translational work, specifically the creation of new technologies and innovative research in areas such as energy, advanced materials, communication, and healthcare. Without doubt, it is pleasing to see the buzz from our research students. They are enthusiastic for the research opportunities ahead and access to new working areas and huddle rooms, which will allow the development of exciting research ideas.'