Exploring sbarc|spark's 'huge potential'
25 July 2022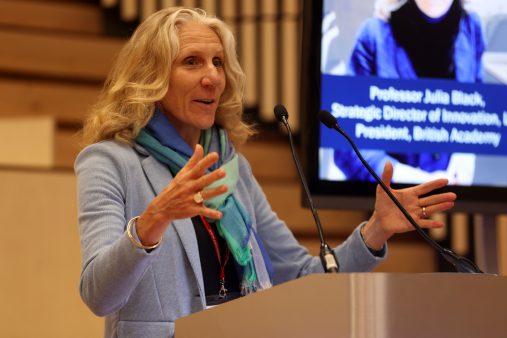 Special guests from the worlds of social science research-led innovation, politics, the third sector and government joined a recent celebration of sbarc|spark – Cardiff University's new 'superlab' for co-creating solutions for society's wicked problems.
In the fourth of a series of blogs, we hear from Professor Julia Black, President, British Academy and Strategic Director of Innovation and Professor of Law at the London School of Economics and Political Science. In an audio interview, we began by asking Julia for her reaction to visiting sbarc|spark as a physical space.
"Overall first impressions? Wow. I'm jealous. It's amazing. It has huge potential, huge, huge potential. It's really inspiring to come inside. You can see it's quite open I mean, that's partly the glass part, the architecture. And you can see that actually it's really been designed around the idea of collaboration, of bringing people in, of taking people out and having that porosity and engagement. That's really exciting. It's got a real buzz."
Q: "There was lots of talk today about sbarc|spark's role in tackling societal challenges, from developing voluntary sector projects to working in partnership with policymakers and businesses. How does sbarc|spark begin to kindle those projects?" 
JB: "Everything starts with an initial energy and everybody's quite excited, but projects survive by keeping that high level of energy going, and that requires quite a lot of curating and a lot of orchestration and management, combined with the serendipity and chance conversations sbarc|spark is designed to facilitate. There needs to be a very conscious effort to focus on collaboration, on drawing people in around a common problem, and solving a common set of challenges.
Q: "So, how can sbarc|spark make a difference?"
JB: "The key is maintaining overall themes, but keeping collaborations fresh and challenging, whether it's about local city regeneration or local issues in relation to housing or schools, or how to regenerate Wales or wider society, whilst considering what else can be learned for the rest of the world. The key is to think very hard about who needs to be in those initial and ongoing conversations, how we can take ideas out of a room in sbarc|spark and make them impactful in the real world."
Q: "Today, we opened our doors to stakeholders from outside. But we all know that over time, organisations can become introspective and self-serving. How do we stop that from happening?"
JB: "That's tricky. One way is to do regular user research, and perhaps get some anthropologists in play. They can begin to quantify and analyze how people are using the building, how they're interacting, what's prompting the most interactions, and what is the nature of those interactions. How the building is being used should be a constant source of learning, development and management."
Q: "What's your view on how we maximise the space, generate engagement and get people to join us in sbarc|spark?"
JB: "The key curating the spaces and managing and facilitating interactions between groups, so they in turn can bring in collaborators. So you start by curating who's in the building: they themselves will draw in different types of people, just as it would if it were a research centre. When you generate ideas that are shared amongst groups in the same building, then that presents a real opportunity to develop policies and help communities around Cardiff and around the region in a shared space where people feel comfortable. A community takeover event, where groups can feel they actually belong, can be a really useful way of building relationships in sbarc|spark."
Q: "Finally, what's your overall message for Cardiff?"
JB: "Well, I love the play on words in the building's name. For me, I would say, you need to consider the mission: the central question for Spark could be 'what futures can we spark'?"
For more information on partnerships in sbarc|spark, email spark@cardiff.ac.uk