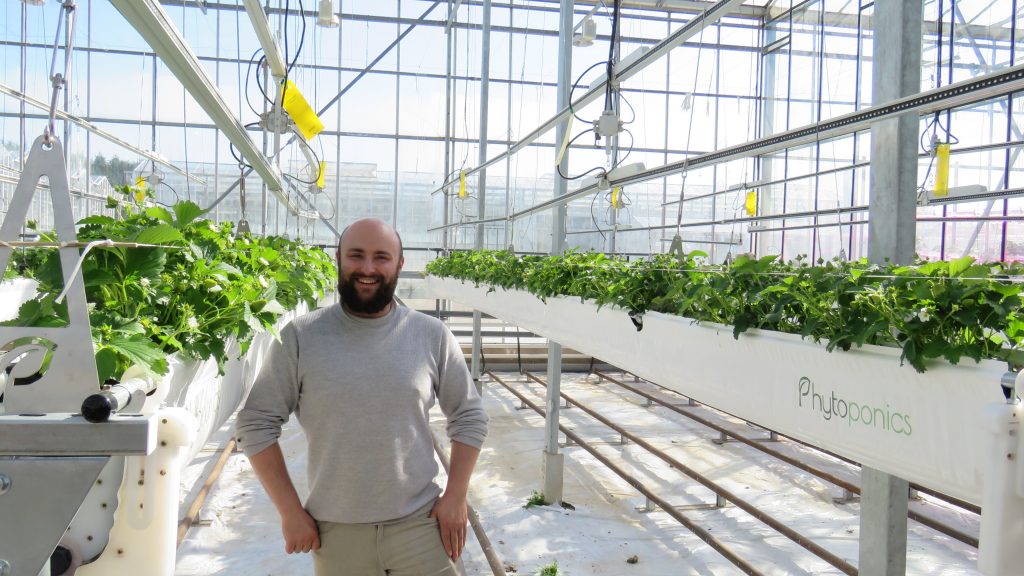 When it comes to saving our planet, Adam Dixon believes he can help. The Cardiff University graduate (BEng 2015, MPhil, 2016) founded Phytoponics. The company designs and manufactures Deep Water Culture (DWC) hydroponic growing systems that produce high-yield crops whilst drastically cutting the use of land, water and carbon emissions. The 2017 UN Environment Young Champion of the Earth has announced he'll be bidding for The Earthshot Prize, announced by Sir David Attenborough and Prince William. Here, Adam talks about his business, growing produce sustainably, and why he's proud to be pitching for the world's greatest environmental award.
"Phytoponics as a concept started in January 2016. I was studying Engineering at Cardiff University, and had an idea to invent a new type of low-cost hydroponic grow module (the Hydrosac) which could be used as the platform for market driven sustainable agriculture.
"I established the company with co-founder, Luke Parkin to help develop the Hydrosac invention. Through self-funding, we were able to develop and test their first Hydrosac prototypes that year.
"In 2017, I was one of six individuals from across Europe to become a United Nations Young Champion of the Earth.
"Fast forward three years, and we're now on the 4th generation of designs for our grow modules with a range of configured Deep Water Culture systems proven to work in commercial growing environments.
"We're in great shape to bid for the Earthshot prize. I recently appeared on BBC Radio Four's PM programme to talk about my vision of making fresh produce abundant and more sustainable.
"It felt great to talk about the exciting work and development I have experienced with Phytoponics since the UN award, and share my new inventions and how they will influence commercial growing towards sustainability.
"Both Brexit and the COVID-19 pandemic have shown us how disruptive world events can be and highlighted the consequences for food production and society. We need to prepare as best we can for any future shocks, whilst reducing and even reversing climate change and environmental damage.
"Innovation can help the world achieve this, which is why the Earthshot prize is so important in supporting ways that can help us stop climate change, while also feeding the global population, and safeguarding the environment.
"I'll certainly be applying for Earthshot to help scale my inventions to the level of commercial impact where Phytoponics can reduce the land, water and carbon emissions from food production and transition agriculture further towards sustainability and a circular economy.
"Ever since avidly watching Sir David Attenborough present the BBC's Life of Plants documentary, I have been inspired to grow plants and protect the environment.
"It would be a poetic full circle if in future I get the chance to meet him and help mitigate humanity's impact on the Earth, while allowing human prosperity at the same time through innovation.
"Thanks to working hard with co-founder Luke Parkin, I'm now leading a Series A round of investment for £1m to scale up our vision, and we have enlisted some influential supporters among the team and board, including Victor Lambert, former MD of Hortimax, and David Kremer, owner of Rubik's Cube brand, and many more.
"Exciting times in an uncertain world."
Adam Dixon, Co-Founder and Technical Director, Phytoponics.