Business booms for graduate's tech tour start-up
26 August 2020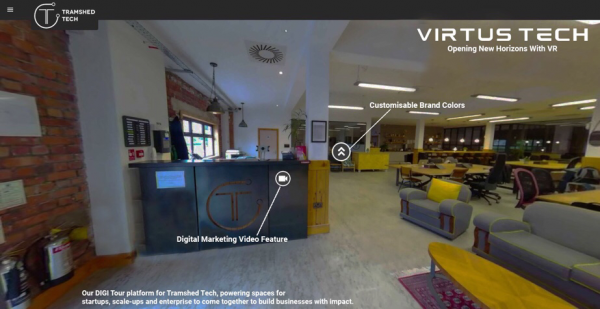 Cardiff University Alumni start-up Virtus Tech – a virtual reality company for the property and retail sector – has come on leaps and bounds since the Home of Innovation blog last interviewed CEO and Co-Founder George Bellwood (BA) in January of 2019. Here, George tells us how they have navigated from final year entrepreneurial fledgling to Covid-19 success story.
"The Virtus Tech journey started while sitting in a Cardiff University marketing lecture. The lecture centred around the way in which technology is driving most markets with customer experience now the key to driving sales and loyalty. When I got home, I asked my house mate and future co-founder Robin Davies (BSc), who was also at Cardiff University studying software engineering, 'what if someone could virtually look around a facility and select the services they offer?' And so, after 2 years with a lot of late nights and early mornings here we are, two Cardiff graduates that now build customised digital tours for organisations across all sectors.
"There is such a growing demand for virtual reality technology across nearly all sectors that PWC predicts the industry will add £1.4 Trillion to the global economy by 2030. Virtus Tech aims to be the UK's leading digital touring platform. Our DIGI Tour product provides clients with a bespoke virtual tour, combining virtual reality and integrated digital features to display services and facilities. Using this innovative display method, clients can create a whole new experience for their customers online and boost sales. Although there are major global competitors with considerable funding behind them, we have created a platform which we believe is unique and goes the extra mile.
"The addition of our DIGI Data service has also proven to be extremely popular for our clients. This service allows us to collect key data insights on how the tours are being used and how effective they are. We know that providing a tour is one thing but making sure marketing content is kept updated and continues to be effective is another. By having insights into how customers interact with the tour and understanding their key behavioural trends, you can create adaptable marketing materials to help drive sales.
"During the Covid-19 pandemic the virtual reality market has exploded, and organisations have been investing heavily in new ways to demonstrate the measures they are taking to ensure the safety of their customers, and adherence to government guidelines. As we have an array of clients across all sectors, we understood the effects that Covid-19 has had on independent businesses within the Cardiff area and have tried to help. We have been providing our services for free and have recently worked with a local independent hotel, giving them a free DIGI Tour for the next 6 months with the aim of restoring guest confidence. This tour highlights new measures that have been put in place recently and will help encourage guests back to the hotel. We have also been working with universities around the UK to help show students the measures they are taking when returning to classrooms (notably University of Wales Trinity St David's 3 Campuses).
"We have been extremely busy for the past few months helping a variety of organisations including hotels, gyms, student accommodations, co-working spaces and so on. We will soon be going for an investment round to help us improve our DIGI Tour & DIGI Data services, as well as introducing our new DIGI Tour Customise service. DIGI Tour Customise is a platform where anyone and everyone can create, edit, and deploy new and existing tours. With the use of machine learning, we are combining our DIGI Data service with this new feature to help clients create the best digital tour possible, giving forecasting and insights. We have come a long way since an idea in a lecture theatre and now we are pushing to become a global market leader."
George Bellwood, Co-Founder and CEO, Virtus Tech