Campus recruits Student Ambassadors
10 June 2019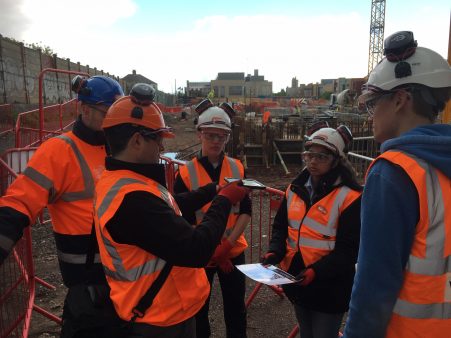 Student volunteers from diverse academic backgrounds have signed up to act as Ambassadors for Cardiff University's new Innovation Campus.
Nuzha Nadeem, Luke Morgan and Jack Collard have teamed up with Bouygues UK and Cardiff University to share their experiences on site as the project develops over the next two years.
They are among five student volunteers who will gain insight into Bouygues UK's construction expertise, plus a chance to further their own profiles by writing, blogging and sharing social media posts about their experiences.
Three of the new recruits have undertaken an introductory tour of the site at Maindy Road, Cardiff, to see how Bouygues UK and Cardiff University are transforming a disused railway yard into a home for high-tech job creation, spinouts and student start-ups across disciplines including social science, catalysis and compound semiconductors.
Nuzha Nadeem, a first-year Civil and Environment Engineering student, originally from Abu Dhabi, said: "It's been a very good experience. Normally in University, we get to hear the theory, but here we get to see engineering in practice. Hands-on experience of work on site really matters as our job is physically being here. The fact that they're bringing together major buildings and getting people to work together on a complex project like this is very interesting."
Luke Morgan, 3rd year Medicine, said: "Construction is a very different discipline to medicine and interests me in the sense of its inter-relevance: how hospitals are designed and built to various specifications is important. Large-scale projects and the complexity behind them raises abstract thinking and planning to get around challenges. It's a very busy site where Bouygues are able to bring together a diverse range of people with their own parts to play, and do the job to the standard required is a real feat of organisation."
Jack Collard, first year, Urban Planning and Development, said,  "I want to broaden my horizons, understand the process and get to know the construction sector better because the process – from planning to construction and through to completion – is interlinked. It's good to have a broad knowledge of the sector. The way the site is run matches the ethos of what the Innovation Campus is all about: the neatness and precision required of high calibre research units is reflected in the site and the way the buildings are being produced."
The Ambassadors programme will give the students access to Bouygues UK's expertise including design, construction management, health & safety and quality.
Pictured are Nuzha, Luke and Jack with Ed Dobbs, Bouygues UK Site Manager and Nick Toulson, Bouygues UK's Corporate Social Responsibility (CSR) Advisor for South West & Wales