Professor Bill Mapleson's Final Retirement
15 December 2016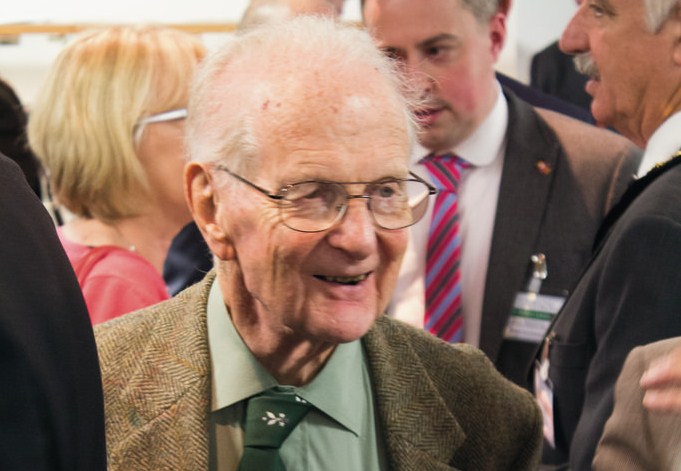 Blog Post Author: Professor Judith Hall
On Monday 19th December, Professor Mapleson will be in the Department of Anaesthetics to open the Mapleson Wing of the Mushin Museum.  The new wing will host a rotating education exhibit and a schools' engagement programme and we are grateful for the support of:
The Society of Anaesthetists of Wales;
Our Cardiff University CUROP students Audrey Handem and Charlotte Maden;
Dr Danielle Huckle, our Assistant Curator, and of course
The inimitable Dr Peter Lloyd Jones our Curator. Dr Lloyd Jones will be having a small library named for him.
Monday's is even more significant, because Prof Mapleson has just told me, it will be his very very last day in the department.  Bill has been working and volunteering for the Welsh National School of Medicine and now Cardiff University since 1952.  That's a remarkable 64 years of intellectual contribution. He is I suggest, probably our most significant living Anaesthetics scientist.
Bill Mapleson was born in London in 1926 and studied physics at Durham University, graduating in 1947.  He was appointed to the Welsh National School of Medicine in 1952 as a Research Assistant in the Physics of Anaesthesia.  He was offered the post and decided to take it as a temporary appointment: that was 64 year ago!  His contribution to anaesthetic science has been truly wide ranging, helping us understand everything from the pharmacokinetics of volatile agents to the flow dynamics of breathing systems.  He is an internationally recognised authority, and yet has never thought himself so grand that he didn't have time for our youngest and newest of researchers.
Bill's contribution to the Anaesthetic Research Society has been particularly significant. He was a founder member in 1958 missing very few meetings over the decades, and asking telling questions, in as kind and helpful manner as possible.  This is quite a skill.
Bill is now 90 years old, he's no youngster so we can certainly allow him a little time off.  I do however feel somewhat sad, as this is surely the end of a very significant era.  Bill Mapleson has contributed to making it a glorious 64 years for Welsh Academic Anaesthesia.  He will be terribly missed.  We will certainly keep in touch, but come and say 'Au Revoir' to Bill at the event on Monday
Register via gundyma@cardiff.ac.uk 19th December 12.30 Department of Anaesthetics, 3rd Floor B Block University Hospital of Wales
Professor Judith Hall
Head of Department, Anaesthetics, Intensive Care and Pain Medicine