What to Wear by blogger Mia Holt
10 July 2013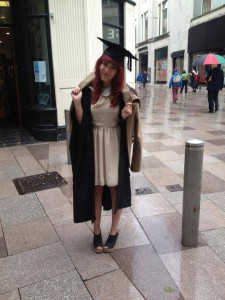 As an Alumna of Cardiff University who graduated only last year, fashion blogger Mia Holt is perfectly placed to provide some advice on what to wear on Graduation Day to ensure that you are comfortable throughout the day. Mia enjoyed her time at Cardiff University so much, that she is returning to pursue a Postgraduate course at the School of Journalism, Media and Cultural Studies in September:
"It's crazy to think that a year ago, I was in exactly the same position that you are in now. After three years of University, I'd finally reached the pivotal point of my Undergraduate education: my Graduation. During the lead up to my ceremony, all those classic nightmares of tripping down the stairs or ordering the wrong sized cap were fresh in my mind. I'm pretty sure I measured and re-measured my head a hundred times to make sure I avoided such a disaster! I'm going to use my own experience to give you some tips and tricks for when it comes to dressing for the day.
For male students
Make sure that you are wearing a suit that is both smart and comfortable. Sounds straightforward right? However, remember that you'll be walking a lot during the day (from City Hall to your ceremony in St. David's Hall), as well as sitting down during the ceremony, so you don't want to end up with an ill-fitting jacket, or trousers that drag along behind you, or in a suit which creases easily. To make sure you find the perfect suit, try on as many different styles as possible to find the best fit; whether it's skinny, slim or regular.
To add a little something to your suit, pick out a stylish and smart tie and pocket handkerchief  which will allow you to add a personal touch to your outfit. Make sure that you avoid bright colours that contrast with your robe colours to ensure that you stay smart, and don't forget to double check that there aren't any colour specifications with regards to your suit.
For female students
Although you have far more freedom when it comes to picking out a style of dress for your Graduation, it's still important to ensure you remain smart and comfortable for the ceremony and to make sure that you wear a dress that can easily be pinned to your robe. This means that any low-cut dresses with a v-neck or scoop neck are a no-no. When it comes to style, a simple and elegant dress that isn't too short or tight will ensure that you look smart and fashionable for your big day.  For colour, make sure you find one that is suitable for your skin tone to avoid a wash-out in your photos.
When it comes to footwear, opting for a small block heel or wedge makes the walk to collect your scroll much less nerve-wracking (it also reduces your chances of falling!).  It's also easier if you keep your hair either in a low bun or pony-tail, or, in my case, completely down, as you obviously won't be able to put your cap on top of an up-do.
Remember to bring a number of safety pins with you ready to pin your dress/suit to your robe. I would definitely recommend bringing an umbrella because, as we found out last year, just because it's July, doesn't mean it won't rain!
Good luck!
---
Comments