Pathways Student Success!
17 July 2016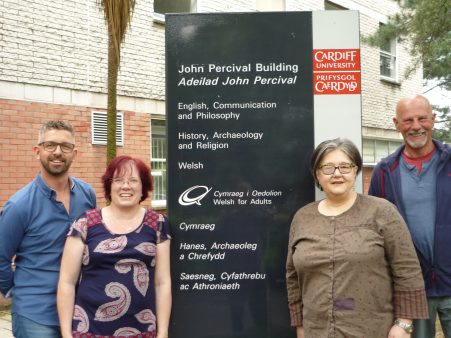 This week 5 students from Cardiff's Pathways scheme, which gives adult learners a route to study a degree, have graduated!
Pathways is a series of schemes which enable adult learners to gain an entry route to a degree from Cardiff by basing teaching mainly on evenings and weekends and especially welcome those who have been away from education for a period of time.
This year there has been huge success for students from the Exploring the Past scheme who will be graduating with degrees in Archaeology, Ancient and Medieval History and History with 2 going on to study Master's degrees!
* Thomas Allen is the first pathway student to graduate in Archaeology.
* First ever Pathway student, mum Hayley Bassett, who achieved a first-class dissertation as part of her BA in Ancient and Medieval History, is continuing as a postgraduate on Cardiff's MA in Medieval British Studies.
* History graduands Penelope Bestic and Alana Carpenter have achieved first-class dissertations.
* Top among his peers within History, Daniel Jewson has been awarded Wellcome Trust funding to pursue a master's degree in Medical History at Exeter University. Currently research assistant for an Arts and Humanities Research Council funded project on the history of Ely, Daniel's research on Voices of the Home Front has been accepted for presentation at a forthcoming National Archives conference in London.
You can read more about their fantastic achievements here, and we wish them huge success with their future plans! Congratulations!