Honorary Fellow: Professor Emerita Dame Teresa Rees
14 July 2016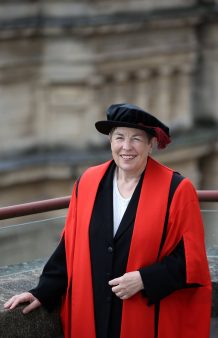 Professor Emerita Dame Teresa Rees was made an Honorary Fellow of Cardiff University on Wednesday 13th July 2016. Her career has focussed on promoting gender equality and her research made important contributions to EU policy making, most recently with regard to women in science. As well as this Professor Rees was a Pro Vice-Chancellor of Cardiff University from 2003 to 2010 and so has a very personal connection to the University.
Speaking to Professor Rees we were very excited to ask her about her career in promoting gender equality and how she became involved in it. "It was a bit of an accident" she laughed, "I wasn't one of those real scholars, I just became committed to the idea of promoting gender equality really, and that led me to do lots of research and work with various government departments and the EU… The research was the outcome of the desire for action"
What was interesting for her was "seeing how organisations were constructed in such a way that they benefitted those that had always benefitted" for instance in the Army or the Police needing to spend certain amounts of time at each level before a promotion, which didn't allow for maternity breaks. The Professor talked of the difficulties of part-time work being considered 'a-typical', having to constantly remind everyone that "it's not a-typical of women!"
The other big project she has worked on is the gender pay gap. The WAVE (Women Adding Value to the Economy) study worked with the local authority who shared payroll data in order to investigate the pay gap.
"What we discovered was that most people who were working part-time, which the local authority thought they were doing to enable them to care for children, weren't actually working part-time at all. They had 5, 6, 7,  in one case 17 jobs, all on minimum wage and had to make up those hours to equate to a full-time salary."
Having such an influential career, we wanted to know if there was any one thing Professor Rees was most proud of? She told us of her work with the BBC to try and set up a TV channel for people living with dementia.
"It just occurred to me, after seeing the TV set up in a care home, that no one could engage with it, it was too fast. But you could have all sorts of TV that people could engage with. I tried to get the BBC [involved]… and now they're doing it. The fact that they are doing it is one of the things I am most happy about."
Apart from that "working with the European Commission and getting the idea of gender mainstreaming into one of the acts" is another of her personal greatest achievements, with there now being 5 European projects on gender mainstreaming; the legacy of her lifetime of hard work on gender equality.
"Your philosophy of life should always be about making the world a better place, however you interpret that"