Honorary Fellow: Nigel Owens MBE
15 July 2016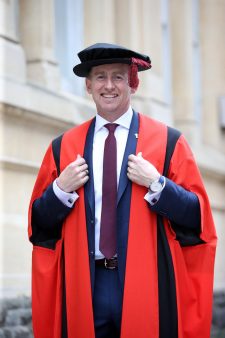 Nigel Owens MBE is an international Rugby referee from Mynyddcerrig in Carmarthenshire. After spending time as a school technician and youth worker he became a referee in the early 2000s. Since then he has gone on to referee all over the world, including the Rugby World Cup final in 2015.
On talking about how it felt to be made an Honorary Fellow, Owens admitted he was "a bit nervous" before the ceremony but that it was "an honour and a privilege and [he] was truly humbled". It turned out that there was no need for the nervousness, with many messages arrving via Twitter and Facebook after the ceremony to thank him for his inspiring and heart-felt speech.
So proud of all @CardiffJomec students graduating today and an inspiring speech about the need for respect + tolerance from @Nigelrefowens.

— Ross Garner (@DrRPG_TV) July 14, 2016
Really inspiring speech from @Nigelrefowens today at #CardiffGrad ceremony

— Sue D (@Sue_Dav) July 14, 2016
Still flying high after our pre-life pep talk from @Nigelrefowens @cardiffuni #CardiffTrained #CardiffGrad 🎓 pic.twitter.com/xzddWwwZFq

— Francesca Donovan (@Francesca_Don) July 14, 2016
Owens wasn't always a Rugby ref though, and had previously worked as a farm-hand, a youth worker and a school technician. With recent discussions about how hard it can be for graduates to find jobs with 'just' a degree, we asked Nigel what he thought about the need to gain different experiences.
"I think it helps you in life. If you just do one thing then you are quite limited in your experiences… it's important that you get opportunities not only to study what you want to study but to do other things as well, to try and understand other things in life. There is no doubt it put me in good stead."
"I experienced a lot of different things in life and I think that's contributed to who I am today… I suppose working in school for 12 years as a technician and seeing how teachers dealt with naughty kids [is similar now to] how I deal with players on the pitch."
When he's not refereeing these days Owens is a very busy man. He spends a lot of time doing work for various charities, including being a patron of Bullies Out. Though as he pointed out, "work isn't really the right word". "I do as much as I can to help promote those charities… I think it is important that you contribute to the great work that charities do."
With all Owens' achievements we wanted to know if there was any one which stood out for him. Turns out it was a difficult question for him to answer!
From "passing my 11+… to scoring a first try. All those things mean something special. Your mum and dad coming to watch you for the first time refereeing a game, getting your first big game, first European final, first World Cup game, first Internationals… a couple of years ago I went to referee some community under-12s games and seeing the kids faces when you turn up to referee the game means something so special."
"If I had to pick something it would have to be the World Cup final. It only happens once every 4 years so the amount of people who get that privilege and honour of refereeing it is very low… but then there's so many other parts that are special to that… what my family and friends did my in village with all the bunting up that day, all those things mean something special."
Despite being such a well known figure in Wales and the sports world Owens remains down to earth and emphasised that receiving awards and Fellowships was a huge honour, but not what he does it for. "When you get the accolades as a thank you for what you do it means a lot… it really was very humbling… Getting an Honorary Fellowship, it means something special".
As he said in his speech, "never, no matter what you achieve in life… never ever forget where you have come from."